The season opens with Anna Netrebko putting her head on the block as Donizetti's doomed queen.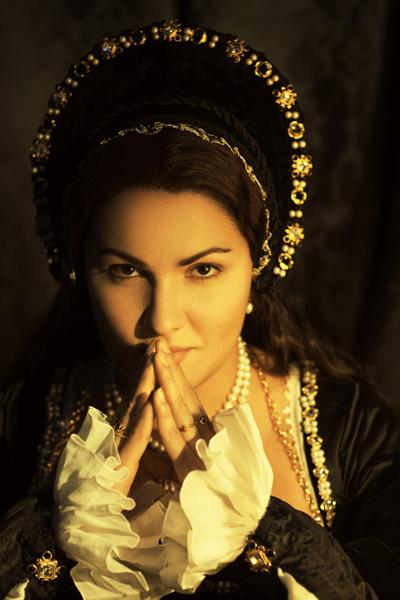 E-e-xcellent. Anna Netrebko as Anna Bolena.
Photo by Brigitte Lacombe © 2011 Metropolitan Opera.
The 2011 Metropolitan Opera season opens with this new production of Donizetti's
Anna Bolena
. One of the composer's best operas,
Anna
chronicles downfall and decapitation of Anne Boleyn, the second wife of Henry VIII. Anna Netrebko sings the title role.
Anna Bolena
is a compelling story and a strong example of the
bel canto
genre. So it's surprising that the Metropolitan Opera has never mounted the opera. The opera pits the doomed Queen against her lady-in-waiting (and eventual successor) Jane Seymour. Both roles offer opportunities for great
bel canto
singing. The tenor role of Percy is also challenging, calling for a high E♭ above the stage, although some singers elect to use the easier, transposed version of the score.
This production directed by David McVicar, marks the beginning of an ambitions project to stage the "Three Queens", Donizetti's informal trilogy of operas based on English history.
Maria Stuarda
("Mary Stewart") is planned for 2012, while
Roberto Devereux
(featuring Elizabeth I) is slotted for 2013.
Recordings:
Coro e Orchestra della Scala
cond. Gianandrea Gavazzeni (EMI, 1957)
Anna Bolena:
Maria Callas
Giovanna Seymour:
Giulietta Simoniato
Percy:
Gianni Raimond
Enrico:
Nicola Rossi-Lemeni
This is a live broadcast from 1957 featuring Maria Callas as the doomed queen. And although this is an edited version of the score, Callas is phenomenal here, captured in excellent form before her decline. She is well matched with Giulietta Simoniato as Giovanna Seymour. Tenor Gianni Raimondi tackles Percy. Gavazzeni was a "house conductor" at La Scala, and is both efficient and idiomatic.