The Met revives Giordano's chilling tale of the French Revolution.
by
Paul J. Pelkonen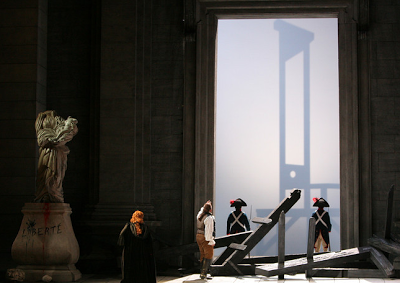 The lovers face La Guillotine in the final scene of Andrea Chénier.
Photo by Ken Howard © 2009 The Metropolitan Opera.
Marcelo Álvarez and Patricia Racette star in Umberto Giordano's potboiler set against the bloody backdrop of the French Revolution. It chronicles an ill-fated love-triangle between an idealistic poet, an aristocratic lady, and Gérard (Zeljko Luçic) a member of the Revolutionary Tribunal. If it's done right,
Chénier
can be an unforgettable theatrical experience as the lovers climb to the guillotine in a kind of Italian
Liebestod.
Giordano is considered a
verismo
composer, from the same era of Italian opera that produced Mascagni, Leoncavallo and Puccini. But unlike those composers, his operas are larger-than-life costume dramas with a strong dash of historical romance.
Andrea Chénier
remains his most popular work, and with good reason. It is a beloved, old-school opera, noted for its challenging tenor arias and the soprano show-stopper "La mamma morta" ("They killed my mother") featured in the Oscar-winning Tom Hanks vehicle
Philadelphia.
This revival of the Met's trusty 1996 Nicholas Joël production of
Andrea Chénier
is not on a par with
La bohéme
or
Aida
in terms of theatrical extravagance. But it works: showing the rapid decline of French society as the Revolution's ideals degenerate into the neck-chopping frenzy of the Reign of Terror that followed.
Andrea Chénier
opens March 24, 2014.
Recording Recommendations:
Rome Opera House Orchestra and Chorus
cond. Gabriele Santini (
EMI
, 1963)
Chénier:
Franco Corelli
Maddalena:
Antonietta Stella
Gerard:
Mario Sereni
There are a number of
Chénier
recordings in the catalogue, with entries from each of the Three Tenors (Plácido Domingo, Luciano Pavarotti, José Carreras.) For sheer chest-thumping ability in the title role, look to the classic Franco Corelli set on EMI, with Antonietta Stella as his leading lady and Gabriele Santini providing real Italian accompaniment in the pit.
Tickets for 
Andrea Chénier
 are available at 
MetOperaFamily.Org
, by calling (212) 362-6000, or at
the box office
starting August 11.
Tickets for 
Andrea Chénier
 are available at 
MetOperaFamily.Org
, by calling (212) 362-6000, or at the box office starting August 11.