The Met brings back its big Egyptian show...again.
by
Paul J. Pelkonen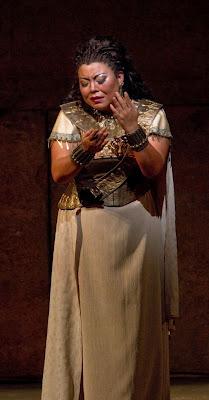 Trapped in Egypt: Hui He as Aida.
Photo by Marty Sohl © 2009 The Metropolitan Opera.
In the year the Met celebrates Verdi, it makes sense to bring back its reliable, popular and now 25-year-old
Aida. 
This is a classy production with the Egyptians in white robes, the Ethiopians in appropriate jasper-like earth tones and everyone onstage in the second act  (including the trumpeters) for the Triumphal March. It's been updated a few times, but this is the same show that has trudged from
Egypt
to Ethiopia and back for the past quarter of a century.
Aida
is an opera that people see for the spectacle, and for the grand illusion of Egypt that is conjured by Verdi's imaginative use of the orchestra and martial themes. It is also an intimate love story set against this grand backdrop, with two girls (who both happen to be princesses) in love with the same guy.
Last year's version of 
Aida
 was undone by its leading lady. This season's revival should be better, with sopranos Liudmyla Monastyrska and Hui He alternating as the captured Ethiopian princess. Tenors Marco Beltri and Roberto Alagna alternate as Radames, the Egyptian general who chooses love over marrying the Pharoah's daughter Amneris (Dolora Zajick.)
Aida
opens on Nov. 23.
Recording Recommendations:
Rome Opera Orchestra and Chorus 
cond. Jonel Perlea (RCA 1955)
Aida: 
Zinka Milanov
Amneris:
 Gulietta Simionato
Radames:
 Jussi Björling
Amonasro: 
Leonard Warren
Ramfis: 
Boris Christoff
An early studio
Aida
, featuring the wonderful pairing of Zinka Milanov and Jussi Björling as Aida and Radames. The mono sound doesn't have the same "wide-screen" effect as more modern recordings of this opera, and the current transfer is marred by audible hiss (especially in the Grand Consecration scene.) However, the singing (especially Björling's stunning "Celeste Aida" and Milanov's "O Patria Mia" with that famous, floated final note) makes this a compelling entry.
But wait--there's more. The set features the late Leonard Warren as Amonasro and Boris Christoff as a wonderfully scary (if not very Italianate) Ramfis. Issued on RCA, this set is also available from Naxos as an import.
Vienna Philharmonic
cond. Herbert von Karajan (Decca, 1959)
Aida:
 Renata Tebaldi
Amneris:
 Gulietta Simionato
Radames:
 Carlo Bergonzi
Amonasro: 
Cornell MacNeill
Ramfis: 
Arnold van Mill
This was the first stereo recording of
Aida.
It's still the best. Renata Tebaldi and Carlo Bergonzi are perfectly matched as the lovers. Karajan was at a peak with his Vienna forces, and although he recorded the opera again for EMI, that set was hurt by a cast which could not hold up against the orchestral assault of the Karajan Sound. Tebaldi is a marvelous Aida, singing with passion and intelligence.
Bergonzi shows why he was one of the finest tenors of the 20th century.This recording is a fascinating early example of Decca producer John Culshaw's "SonicStage" technique, with tiny aural enhancements added to create a virtual operatic experience.The tiny echoes (audible when Radames and Aida are trapped in the tomb) are chilling in their simplicity.