New Productions: 6. Wagner: 0.
by
Paul J. Pelkonen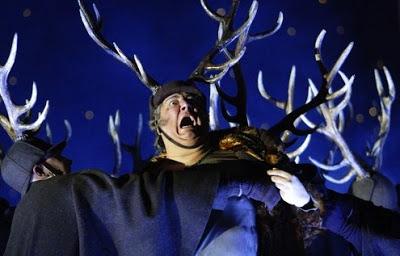 "What do you mean, no horned helmets?"
Ambrogio Maestri is Sr John  Falstaff in Robert Carsen's production
of the Verdi opera,  premiering at the Met Dec. 6, 2013.
Photo by Catherine Ashmore © 2012 The Royal Opera House in Covent Garden.
In continuation of its apparent determination to do things differently than every other arts organization in New York City, the
Metropolitan Opera
announced its 2013-2014 season schedule at 5pm tonight via the company's website.
It's an unusual schedule this year. Scratch that--it's downright weird. Some unloved productions from recent years return, including the Luc Bondy
Tosca
and Mary Zimmerman's controversial "rehearsal" version of
La Sonnambula.
 There are three operas by Bellini and three operas by Richard Strauss including the mighty
Die Frau ohne Schatten
. There are three Russian operas (two of them new productions) and one in Czech.
An article in
the
New York Times
announced that icket prices in the expensive seats will drop by 10%, with the burden being placed on Family Circle Balance seats--they go up 20%. Happily, the Rush Program will continue next year.
So what's missing? First of all, there is no Wagner on the schedule. Planned revivals of
Tannhäuser
and
Parsifal
were reportedly nixed in favor of Dvorak's
Rusalka
(starring Renée Fleming) and Berg's
Wozzeck
with Thomas Hampson and Deborah Voigt. And there's only two Verdi operas (
Falstaff
and a revival of the Vegas
Rigoletto
) after last year's slew of seven.
Also anticipated: the return of Shostakovich's 
The Nose
, Sondra Radvanovsky and Angela Meade alternating in
Norma
and a much-needed revival of
A Midsummer Night's Dream.
But nothing is more eagerly anticipated than the return of music director James Levine to active duty after a long absence. He's scheduled to conduct a revival of
Cosí fan tutte
, the aforementioned
Wozzeck
and the new production of
Falstaff.
That's one of
six
new productions. And here....they....are: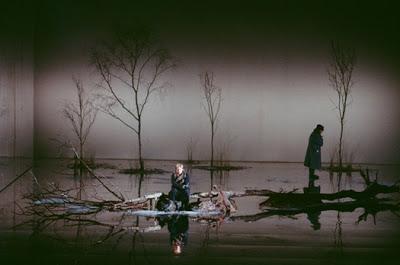 The Met opens its 2013 season with Eugene Onegin. Photo © 2012 The English National Opera.
Eugene Onegin:
Season opener, starring (for the third year in a row)
Anna Netrebko
and Mariusz Kwiecien in the title role. A new prduction from the English National Opera that was originally supposed to open the 2012 season. Opening gala
Sept
. 23, first regular performance
Sept. 26
. There is a
Met Live in HD
telecast scheduled for
Oct. 5.
The second cast (with Peter Mattei and Marina Poplavskaya) starts
Nov. 23
.
Two Boys:
 A new opera by Nico Muhly and a(nother) co-production with the English National Opera. Bartlett Sher directs. Opens
Oct. 21
.
Falstaff:
A Robert Carsen production starring Ambrogio Maestri as the wide-bellied British knight. Originally seen at the Royal Opera House at Covent Garden. Opens
Nov. 6
.
Live in HD
broadcast
Dec. 14.
Die Fledermaus: 
A fizzy new production of the Johann Strauss operetta with an all-start cast. No word on whether there's a gala sequence. Opens
Dec. 31
, second run starts
Feb. 3
.
Prince Igor:
Valery Gergiev returns to the Met podium to lead Borodin's great unfinished opera. Opens
Feb. 6
.
Live in HD
broadcast
March 1.
Werther:
Jonas Kaufmann shows his sensitive side as Massenet's suicidal poet. Opens
Feb. 18
.
Live in HD
cast
March 15
.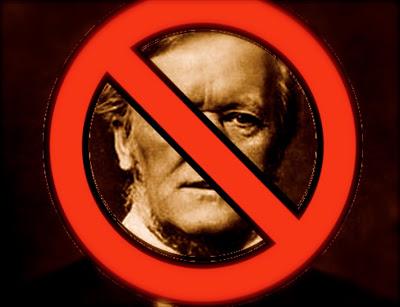 The Met is offering no Wagner productions in the coming season.
Now, the
generale.
(That's the fancy-schmancy insider's term for the rest of the opera season.) Just a list for now, full previews will follow this summer and all next season as part of the
Metropolitan Opera Preview
series on
Superconductor.
Cosí fan tutte
(opens
Sept. 24
. This is
 James Levine
's scheduled return to conduct at the Met. A spring revival opens April 23 as a replacement for the planned but cancelled revival of
The Rise and Fall of the City of Mahagonny.
)
The Nose
(starts to run 
Sept. 28
.
Live in HD
telecast is schedule for Oct. 26. Valery Gergiev conducts. Gesundheit!)
Norma
 (opens
Sept. 30
. Features Sondra Radvanovsky and Angela Meade trading off performances of the title role.)
A Midsummer Night's Dream
 (opens
Oct. 11
. Commemorates the 100th birthday of Benjamin Britten.)
Tosca
(Sorry folks, it's still the ugly Luc Bondy production. Opens
Oct. 29. Live in HD
broadcast on Nov. 9. second cast starts Dec. 11)
Die Frau ohne Schatten
(The first revival in a decade of Herbert Wernicke's production. Christine Goerke is the Dyer's Wife. Vladimir Jurowski conducts. Opens
Nov. 7
.)
Rigoletto
(Vegas, baby! Opens
Nov. 11
.)
Der Rosenkavalier
(This may be the last run for this venerable production, which is slated for replacement later this decade. Opens
Nov. 22
.)
L'Elisir d'Amore
(Opens
Jan. 9
. Anna Netrebko returns in the title role.)
La bohéme
(Opens
Jan. 14
. The Zeffirelli production. Second cast starts
March 19
.
Live in HD
cast
April 5.
)
Madama Butterfly
(Opens
Jan. 16
. Second cast starts
April 4
.)
Rusalka
(Renée Fleming returns in the title role. Opens
Jan. 23
.
Met Live in HD
cast
Feb. 8.
)
The Enchanted Island
(The Shakespeare pastiche returns, starring Susan Graham, Daniele Di Niesi and Diana Damrau. Opens
Feb. 26
.)
Wozzeck
(Deborah Voigt and Thomas Hampson star. This is Mr. Hampson's first
Wozzeck.
James Levine conducts. Opens
March 6
.)
La Sonnambula
(Diana Damrau walks in her sleep. Opens
March 14
,)
Andrea Chenier
(Marcélo Àlvarez sings the title role. Opens
March 24
.)
Arabella
(Malin Bystrom takes the title role. Opens
April 3
.)
I Puritani
(This was rumored to be a new production but it's the old reliable starring tenor Lawrence Brownlee. Opens
April 17.
)
La Cenerentola
 (Opens
April 21
. Joyce DiDonato sings the title role.
Live in HD
cast on
May 10,
last day of the 2013-2014 season.)
Holiday Offering: 
The Magic Flute
(opens
Dec. 16
.) It's more like
The Magic Piccolo.
This truncated, family-friendly version of the Mozart classic is aimed squarely at the younger set. Jane Glover conducts. And it's sung in English.