We're approaching year 15 of Metric, and in that time Emily Haines and company have matured from Canadian soft-rockers with a taste for synthesizers to stadium-calibre headliners. 2009′s Fantasies provided the acme of their rise, with a non-stop barrage of radio-ready jams that were capped off by the too-apt "Stadium Love." And now we have Synthetica, the first taste of 'made it' Metric.
The singles here ("Youth Without Youth" and "Speed the Collapse") follow the model laid out on Fantasies: big, bombastic pop tracks mastered for speaker stacks. But something seems a bit off elsewhere on Synthetica. The first line Haines sings on the album is 'I'm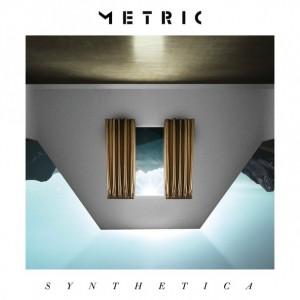 just as fucked up as they say,' a play at emotional distress that could be put-on or could be genuine, but either way colors the churning guitars of "Artificial Nocturne" with a sense of an impending fall.
"Breathing Underwater" carries that shadow with it, even as Metric do their best U2 to create a predictable and bubbly canvas for Haines' vocals. The lyrics here are more telling: 'they were right when they said we should never meet our heroes' Haines sings, before continuing to the chorus, 'is this my life? Am I breathing underwater?' It's one of those 'wow, I can't believe I'm famous now!' songs that can't help but irritate, but for Metric, the humble-braggy form comes evenly tempered with discomfort.
Perhaps nowhere is that feeling more clear than on "The Void," where Haines repeats over and over again, 'What can I say, I stayed up all night to prove I can keep up with you.' It's a circular song, seeming to eat its own tail and giving us an aural equivalent of the marathon tour lifestyle Haines bemoans. But the message is clear: It's not so easy for me anymore, I'm getting old. By the end of "The Void." her voice grows somewhat ragged, and as the rhythm peters out, the title's relevance to Metric at this stage in their career becomes obvious.
And then the title track hits, a rejection of the 'sell-out' label that comes along with success. 'In the shadow of the big screen, everybody begs to be redeemed,' Haines growls here, a self acknowledgment of Synthetica's inability to come to terms with itself. The message of the song is clear (especially with cringe-worthy lines like, 'I won't ever let them make a loser of my soul'), and it's impossible to decide whether you should feel bad for Metric for their obvious distress or for the fact that they can't hide it at all.
Which sort of brings us back to those aforementioned singles. They rock. "Speed the Collapse" allows Haines voice to careen around at it's best, while "Youth Without Youth," despite its staid riff, channels a dark, late 80s aesthetic that makes you feel like you're listening to the awesome soundtrack of a horrible vampire movie. Synthetica is an album caught between these two poles–the ease with which Metric can now turn out catchy tunes, and their own unwillingness to accept that that ability is exactly what's allowed them to keep playing music for 15 years. Perhaps something exciting may come from the turn away from Fantasies and the stadium (if that something comes anywhere close to the marvel that is still Grow Up and Blow Away, then exciting will be an understatement) but for now, it's hard to come away from Synthetica feeling anything but bummed out.

2 / 5 bars