The last couple of afternoons a friend and I got together to do a little hunting. I pulled into an old wayside stop used many years ago as a place to rest and water the horses. I knew before he said it, this place is hunted out. After we argued a minute he agreed to hunt here a little while on the condition that if we did not find anything I had to buy his breakfast the next day, but if we do he has to buy mine. I agreed to his condition, because I like to eat breakfast on him.
I hear him and others say,"hunted out site," quite often. I do not believe you can hunt out a site where people gathered for decades. There is just no way to find everything, even if you can cover every inch, the conditions are different each time you hunt a site. Conditions effect the ground, the metal detector and you. That is the reason I do not believe in hunting out a site.
After hunting a few minutes he got a hit and while he was digging I got a hit. I dug an old button and he dug a 1964D penny he accused me of putting there. He turned around and after a few sweeps he got another hit. I get breakfast, because he found a bronze 1886 Variety 2 Indian Head. We did pretty good adding another Indian Head unreadable, a 1900 Indian Head, 2 old buttons, 4 bullets, 1888 nickel, and a nice Sterling Silver Thimble.
Yesterday, as I enjoyed breakfast at the coffee shop with my friend, I could not help but comment, "Not bad for a hunted out site." He just smiled and told me to shut up and eat my breakfast.
May all of your trails be smooth and your treasure sites many.
Best Wishes and Good Hunting
"Just because everything is different, doesn't mean anything has changed."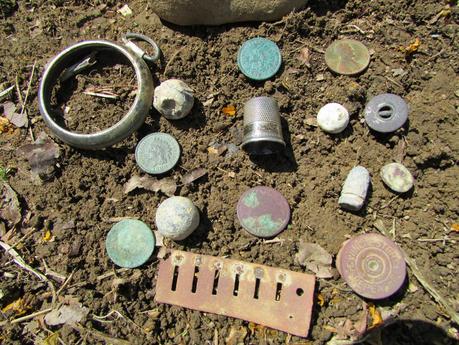 Hunted out site?