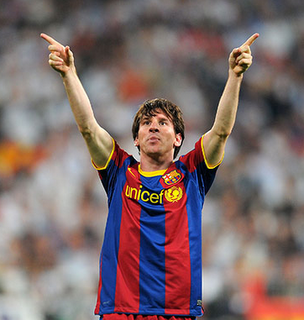 Messi scored a magnificent double at the Bernabeu
Clasicos are always quite a lot of fun. While often there isn't too much football played due to scuffles, pre-match press room mind games, and the ridiculous amount of red cards often handed out, the football which is played is often brilliant. It was Lionel Messi again, scoring two goals the second more beautiful than the first. While Mourinho might be trying to steal the spotlight with conspiracy rants, it's impossible to take away from Messi's magical second goal which helps secure Barcelona's spot in the Champions League final.

It's best to start at the beginning with this match, as there was plenty of action. Mourinho organized his Real Madrid side to stifle the match in the best way possible. A tight midfield trio of Lassana Diarra, Xabi Alonso, and Pepe was prepared to shut anything down which Xavi and his teammates tried to create. While their job was to shut down midfield passing, they were also set up to stop Lionel Messi. Mourinho also chose to play Ronaldo as a lone striker, and while the greased up Portuguese player moaned, Adebayor replaced Ozil at halftime to give Ronaldo something to work with.

But in the first half Barcelona didn't fall in Mourinho's tactical trap. Guardiola must have predicted a defensive display from Real (I know, what a surprise), and therefore ordered his players to practice passing. The blaugrana kept the ball, passing around the Real Madrid bunker in little triangles and other geometrical patterns.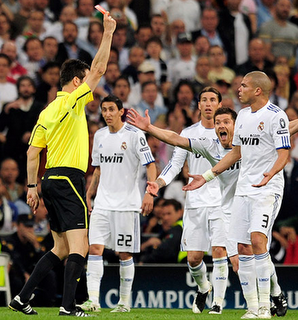 The match wasn't all passing around. Because Real Madrid were constantly chasing the ball, there were plenty of late tackles and interventions which broke up the match and helped tension rise in the Santiago Bernabeu. At halftime a scuffle on the field almost finished in a fight, and referee Wolfgang Stark awarded a red card to Barcelona's substitute keeper Pinto. The first of the match.
In the second half Real Madrid now had the big frame of Adebayor to hit long balls to, whenever they got possession. But the match took a forseeable turn in the 61st minute when Pepe came flying in, studs up onto Dani Alves's leg. The Brazilian was spun around before he hit the ground, crumpled in pain holding his leg. The referee produced an immediate red card, leaving Real Madrid yet again with only ten men to play the match with. Mourinho's sarcastic clapping earned him an expulsion along with a free seat in the stands. From there he (not-so) secretly slipped notes with information through people to his assistant coach, who made the necessary tactical adjustments so that they wouldn't be completely humiliated.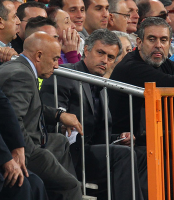 Tricky Jose...
Fifteen minutes after Pepe saw red, Messi made his permanent mark on the match. Substitute Afellay received the ball out wide on the right wing, and a low cross to Messi was tapped in through Iker Casillas's legs. While the goal didn't exude the usual brilliance which Messi's goals do, it was still a breathtaking moment, and it makes you wonder, did he mean to nutmeg Casillas? 
About ten minutes later the Bernabeu witnessed brilliance in its purest form. Messi took the ball from Xavi, running alone at the line of four Real Madrid defenders. He runs by the midfield duo of Xabi Alonso and Lassana Diarra, skips past a defender, then another, around a third, keeps going all alone until he's right in front of Casillas and then deftly slots it into the bottom corner. Words truly cannot describe the sheer magnificence of this goal.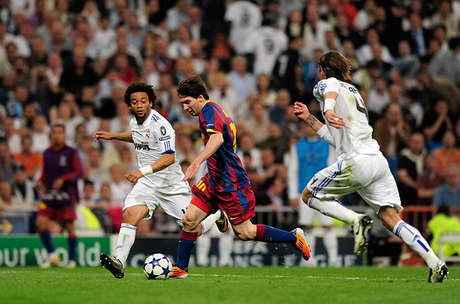 Messi dancing past the Real Madrid backline before scoring the second goal of the match

It was over. Not just the match, but the tie seems finished as well. While Real Madrid will put up a fight at the Camp Nou, this decisive 2-0 victory seems to have shown that for this season at least, Barcelona are the best in Spain. Thanks to Messi, Barcelona have defeated their rivals yet again, and are now much closer to the Champions League final at Wembley.