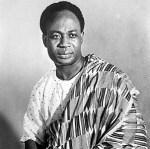 Kwame Nkrumah
As the 2nd Annual Kilombo Conference starts this Friday 27th September 2013 in Peki Ghana, it is critical for the African Diaspora and Africans all over the continent to be with our brothers and sisters discussing the right way forward for our motherland.
In February 2013 while researching about the history of Pan Africanism I found out that from the initial Pan-African Conference held in Manchester in 1945 at which Nkwame Nkrumah took part, 12 years passed before Ghana became independent in 1957.
In 1958 at the first All African People's Conference which invited leaders of already independent African states and those of African movements of liberation from across the continent, participants learnt from Nkrumah a big deal in freeing the continent and efforts of uniting it against the then colonialist powers and future neo-colonialist forces.
It is more than a half century since those years of the continent's political independence and early organizing for African unity, but the context seems not to have changed drastically. Our countries are still seen from outside through the loops of the heart of darkness of Joseph Conrad. Only actors and strategies of exploitation of the continent from that past appear today different, but the fundamentals remain the same as those of back then.
The spirit of our forefathers lives on in some of us. We are today seeking solutions to the real problems of poverty and freedom of Africans at the grass root level in rural and cities. Kilombo Centre is one of such examples.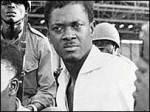 Patrice Lumumba. He was among the participants of the All African Peoples' Conference held in Accra in 1958 and organised by Nkwame Nkrumah.
Though some of us are far from the continent physically, we are totally with you in spirit. Please consider this as a testimony of our total support and commitment to what Kilombo is doing to improve Africans' lives radically, no matter how long it will take and all the sacrifices to be endured to get there. 
Ambrose Nzeyimana, Co-ordinator
Organising for Africa
United Kingdom