Julia from Julia's Place offered us three prompts this week, it was too tempting to only use one.   Some of the other contributions  have been very clever and used all three in one piece but I only used one,  so have  written a  part 2 this week.
Just as a reminder the prompts are well-known day-to-day phrases originally from the Bible:-
…the apple of his eye/the writing on the wall/the powers that be…
I wanted to know a bit more about the context in which the phrases are used,  and I read  the text about the writing on the wall  from Belshazzar's feast in the Book of Daniel.   What did the finger write on the wall?   Mene, Mene, Tekel u-Pharsin – one interpretation of those words is  "Thou art weighed in the balance and art found wanting".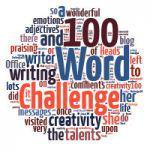 ————————————————————————————–
Mene, Mene: 
It certainly was a grand shindig, with friends and acquaintances from all areas of her life.  The chilled champagne flowed copiously and the buffet table was laden with delicious vegetarian food.  Autumn had spared no expense, or thought to her family.  This, unfortunately, was typical; she certainly knew how to live life with abandonment.
 A small group of her closest friends sat in the corner discussing  renaming  "Pa's Burgers" to "Russets" and if the new style restaurant would be successful.   They decided Autumn needed a wake-up call,  she had to be shown the writing on the wall, or her business acumen would be found wanting.
Take a look at these:
A Father's Dilemma  (My 100 Word Challenge Part 1)

Circus Mums (100 Word Challenge – Keeping the Peace)
Hermelness Speaks (100 Word Challenge – A Funny Guy)
The Blog Up North  (100 Word Challenge -  You and Me)
Gill's Thoughts (100 Word Challenge – Double Tragedy)