Men's watches remain a wardrobe staple for the well dressed man, and yes, I do mean actually watches. While the Apple watch has its place, and is a fun tech accessory, it doesn't take the place of the luxury wristwatch. The two can coexist, whether on the wrists of different wearers, or on the same men (but at different times.) I don't recommend doubling up your Apple Watch and your Rolex any time soon. Or ever.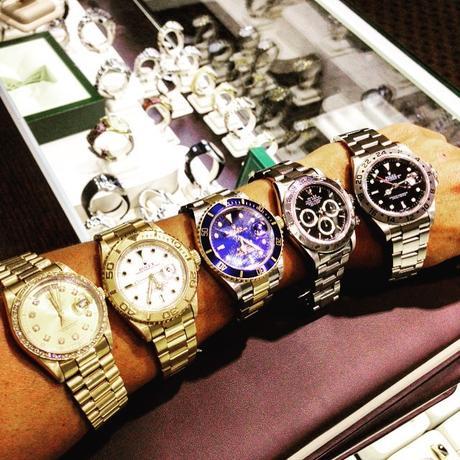 via @BocaRatonPawn
Current trends for men's timepieces include ceramic watches, rose gold watches, watches with a vintage appeal and re-issues of classic timepieces. Ceramic watches offer the incredible light weight and durability of jewelry ceramic, also known as titanium carbide. These watches are most often seen in white or black, and can range from very affordable styles to very expensive ones. Rose gold watches have a certain vintage look that is much sought after right now. This warm hue can be seen in the entire watch or just as an accent color. Classic watch re-issues have also been huge thanks to the vintage revival, and offer a certain timeless appeal.
Mens watches come in a variety of styles, but vintage, pre-owned and Rolex still rule the roost.