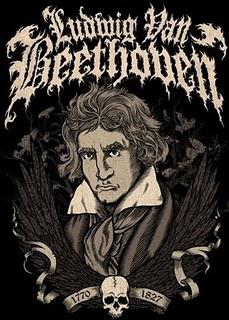 Beethoven goes metal. Image © TeeFury.com
Or: Another Article About Metal Meeting Classical Music.
Since the early days of heavy metal, the genre has always been strongly influenced by classical music. Deep Purple recorded
Concerto for Group and Orchestra
. Iron Maiden appropriated the galloping rhythm of the
William Tell
Overture for half the songs in their early catalogue.
Guitar playing took influence from classical music as well. Richie Blackmore (Deep Purple) led the charge, incorporating classical-type scales and modes over blues stylings. In Germany, Uli Jon Roth's playing on the first five Scorpions albums influenced a generation of metal guitarists, including Metallica's Kirk Hammett.
In the 1980s, the influence of guitarists Richie Blackmore (Deep Purple) and Uli Jon Roth (the Scorpions) led to an explosion of neo-classical technique among heavy metal guitar players. Eddie Van Halen's "Eruption" showed would-be guitarists how to make their fretboards sound like a Bach fugue--in less than two minutes.
Guitarists like Yngwie J. Malmsteen, Paul Gilbert and Steve Vai incorporated sweep picking, arpeggios, and Bach-like tapping figures into their styles, often with dazzling results. Below, two versions of the first movement of Beethoven's Fifth, illustrating two different approaches to re-imagining this seminal movement.
Mr. Malmsteen is better known for his high-speed arpeggiated chops than his ability to write good songs or keep a working band together. Note the upper "scalloped" fretboard, with grooves cut between the frets to allow for faster playing. And then there's the bling--which doesn't appear to slow the Swedish speedster down.
Steve Vai's career started when he was just 19, as a transcriber, and then a second lead guitarist for Frank Zappa's working band. Vai then went on to stardom with ex-Van Halen vocalist David Lee Roth, introducing listeners to his trademark "laughing guitar" and expanding the instrument's range and depth. He has a different, less reverent approach to the music. I don't know the source of this performance.