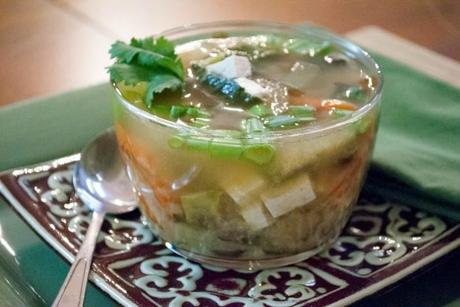 This week is all about Asian flavors in our house.
Earlier in the week I served a crunchy Asian cabbage salad with garlicky poached chicken on the side, and yesterday a sweetly mellow miso soup.
I would love to say that I have any formal training cooking Asian cuisine, but that wouldn't be true. I'm afraid my style is definitely my own, with lessons learned from fellow food bloggers like Nami at Just One Cookbook, and Jaden over at Steamy Kitchen.
That's okay. My limited cooking skills in this arena don't seem to be a problem for my family and friends, so I'll just keep following Nami and Jaden and learn as I go.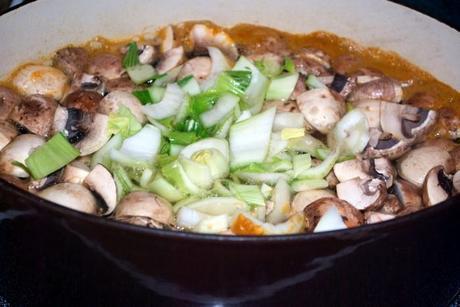 And while I've made plenty of salads and stir fries, I've yet to try my hand at miso soup.
If you aren't familiar with this fermented soybean paste, Miso has a mellow earthy flavor. Slightly sweet, if you ask me. I've enjoyed it in salad dressings, and when it's served in soups at restaurants, so I decided it was time I made my own.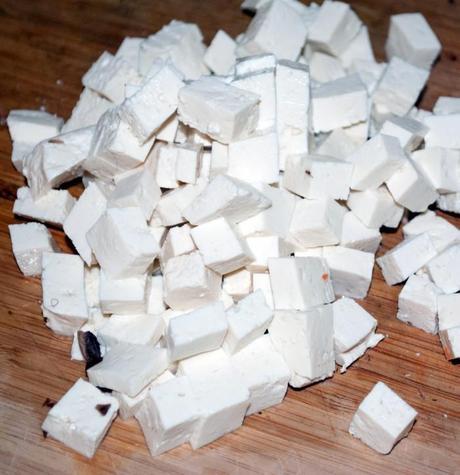 I added bok choy, carrots and mushrooms from my CSA to get my veggies in for the day, then tofu. I couldn't resist seeing if I could slip tofu by Mr. Mike if it was hidden in a soup full of veggies.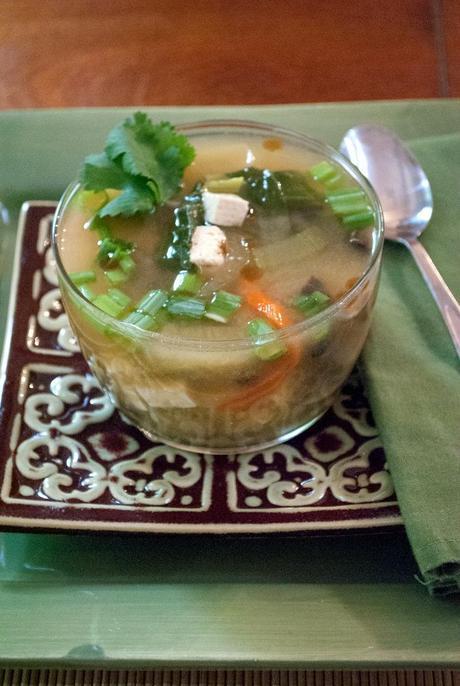 Needless to say, by the time I sprinkled green onion and drops of savory sesame oil on top of Mike's soup, he was a happy guy. Not one word about tofu floating in his bowl, and not a drop of soup left either!
Keep in mind that miso is high in sodium, so you don't find me adding salt to this pot. Besides, there was plenty of flavor without it.
That's my first attempt at making my own miso soup folks! I'd love your feedback, so be sure and leave a comment. Enjoy!
~Kristi
Print

Miso Soup with Bok Choy and Tofu
Serving Size: 6 - 2 cup servings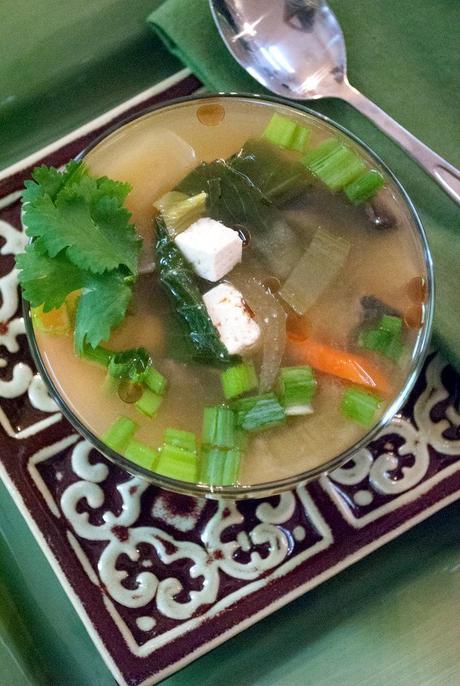 Shake It Up! Add ginger or garlic for a spicy soup. Any vegetables you have on hand would work in this soup. Spinach, kale, celery, zucchini.
Ingredients
32 ounces low sodium vegetable broth
6 cups water
2 cups carrots, cut on the diagonal
2 medium bok choy, sliced and leaves separated from stems
4 cups mushrooms, quartered
½ cup miso paste
4 ounces firm tofu, cubed
1 cup green onion, sliced
1 tablespoon sesame oil
1 cup cilantro, leaves for garnish
Instructions
Preheat a large dutch oven over medium high heat.
Add vegetable broth, water and carrots. Bring to a boil and boil for 8 - 10 minutes until carrots are just tender.
Add mushrooms and bok chou. Simmer another 5 minutes until vegetables are just tender.
Add miso and tofu. Simmer for another 3 - 5 minutes to melt the miso into the soup, and warm through the tofu.
Serve topped with scallions, cilantro and a few drops of sesame oil.
Notes
Food energy: 156kcal Weight Watchers Points 4 Saturated fatty acids: 0.80g Monounsaturated fatty acids: 1.46g Polyunsaturated fatty acids: 2.66g Total fat: 4.92g Calories from fat: 44 Cholesterol: -- Carbohydrate, by difference: 22.04g Total dietary fiber: 7.88g Protein: 9.11g Total lipid (fat): 5.41g Water: 703.91g Ash: 7.25g Total sugars: 8.51g Calcium: 140mg Iron: 3.47mg Magnesium: 55mg Phosphorus: 160mg Potassium: 901mg Sodium: 1522mg
2.5http://motherrimmy.com/recipe-miso-soup-tofu-bok-choy/Mother Rimmy�s Cooking Light Done Right by Kristin A. Rimkus is licensed under a Creative Commons Attribution-Noncommercial-No Derivative Works 3.0 United States License.
try { _402_Show(); } catch(e) {}