Melissa looks amaz­ing in her Ben­jamin Roberts dress, Richard is rock­ing a suit from Next (only about a mil­lion miles bet­ter than Moss Bros, by the way!) and spe­cial credit goes to Melissa's mom for all the hand­made touches from bunting to fab­ric hearts and pocket squares — she even crafted the wed­ding invitations!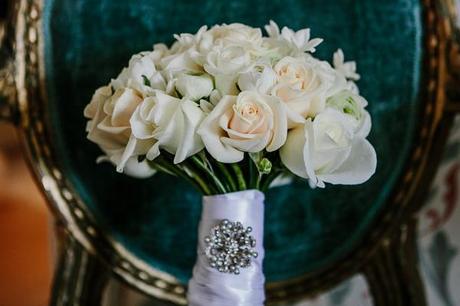 Lit­tle details include gourmet pop­corn (I can almost taste it! And as I type it's barely past break­fast time… not a good sign!), love­birds on the cake and gor­geous gyp­sophila — my favorite. Huge thanks to Tier­ney Pho­tog­ra­phy for the beau­ti­ful images — watch out for the por­trait shots with snowflakes and stun­ning images of Hod­sock Pri­ory. Con­grat­u­la­tions Melissa and Richard, and to every one of you lovely read­ers — enjoy! Claire xxx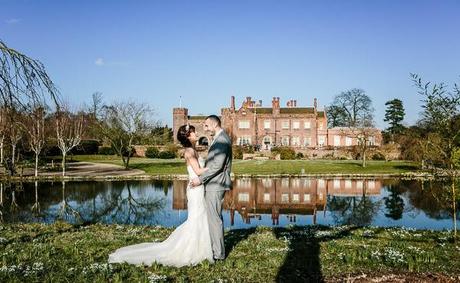 Melissa and Richard — a vin­tage wed­ding at Hod­sock Pri­ory, Nottinghamshire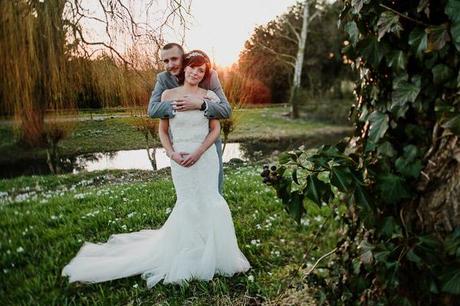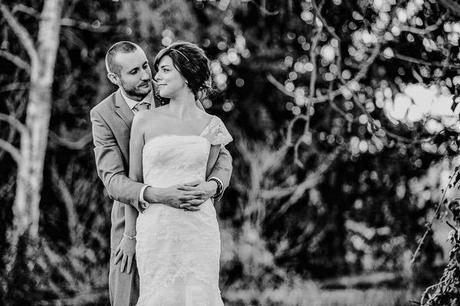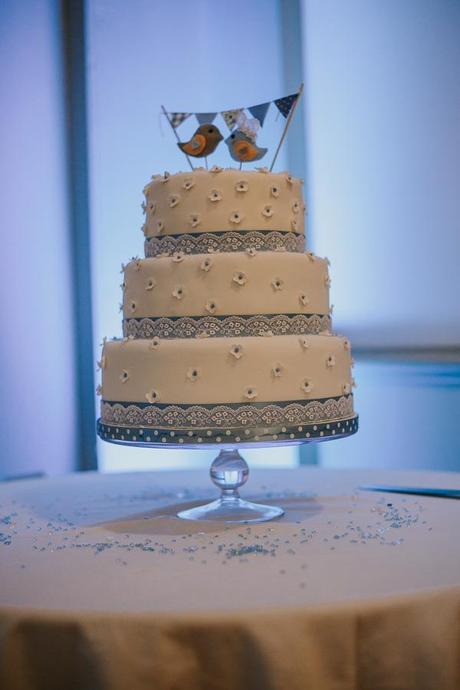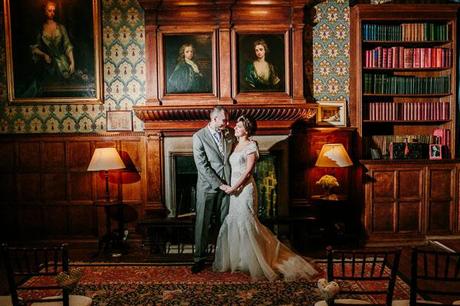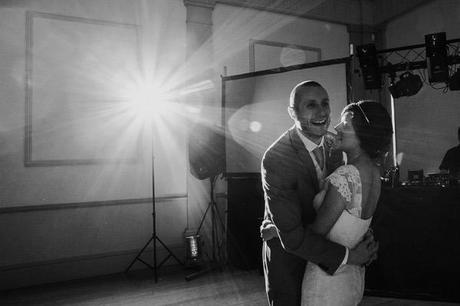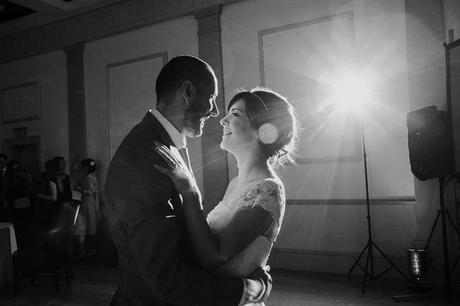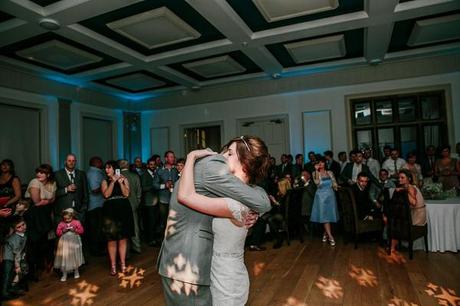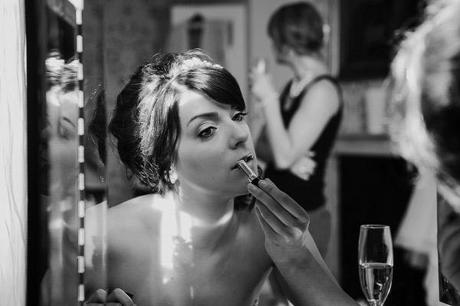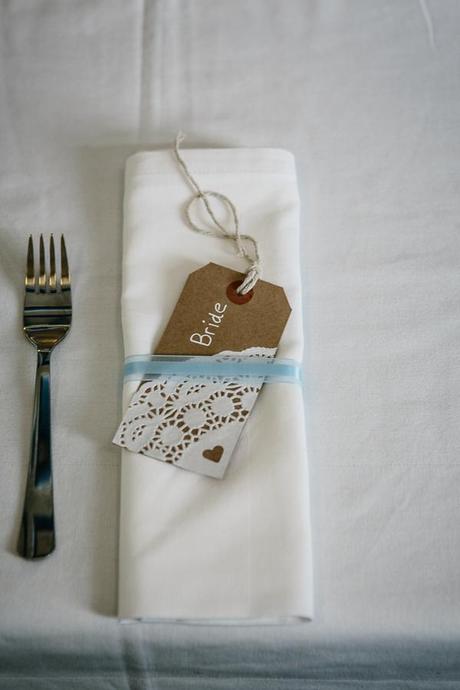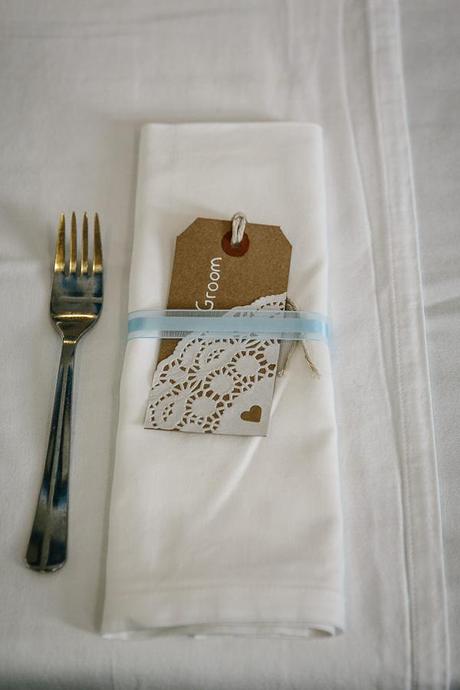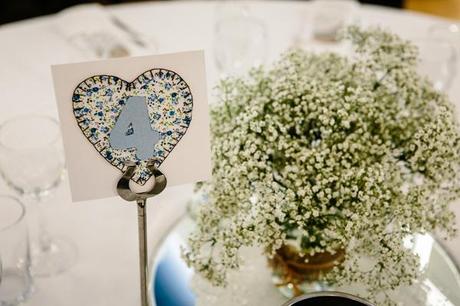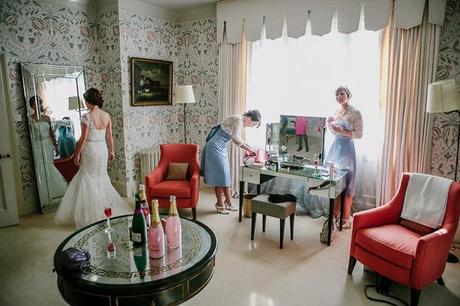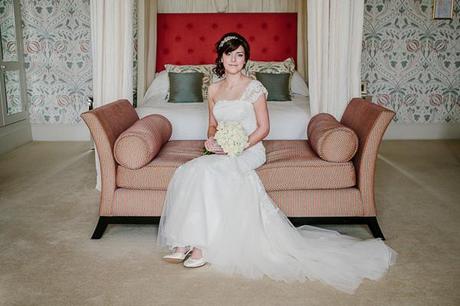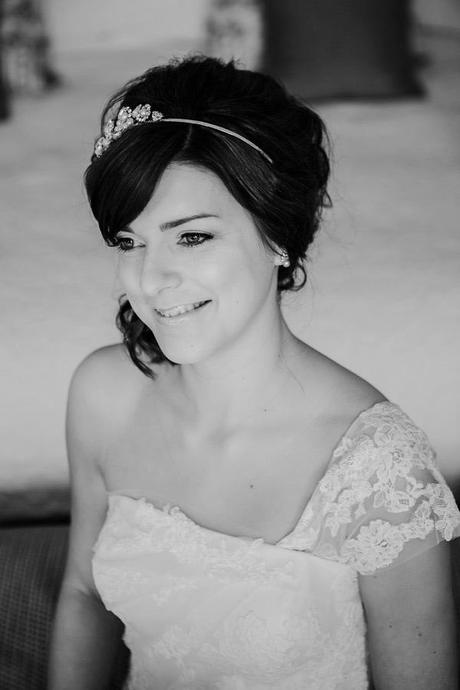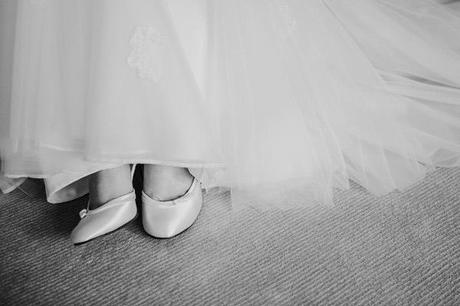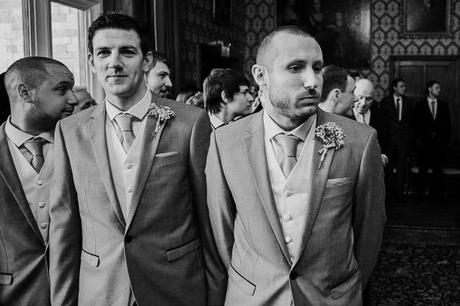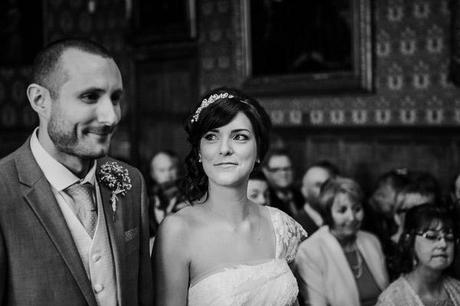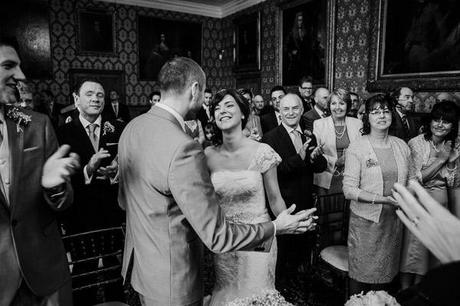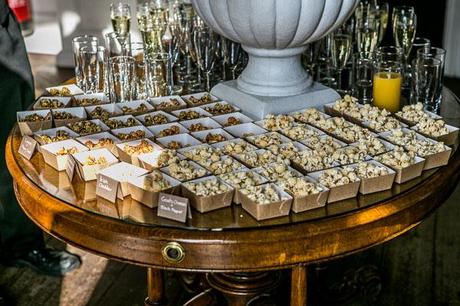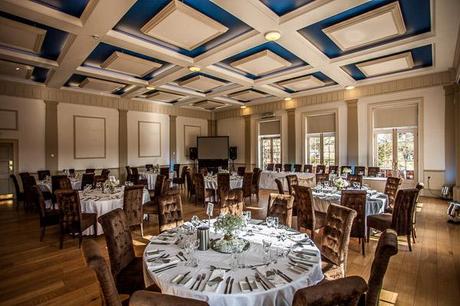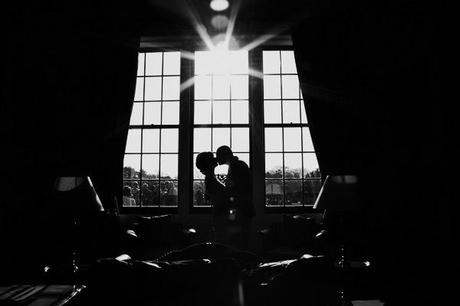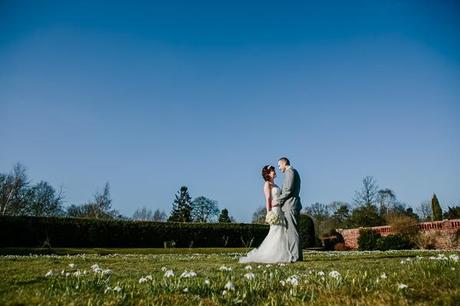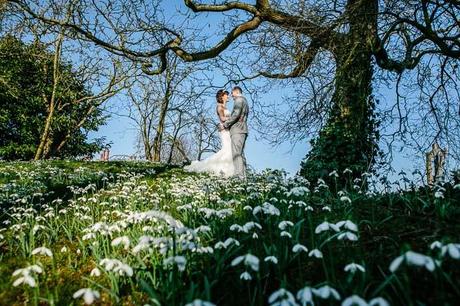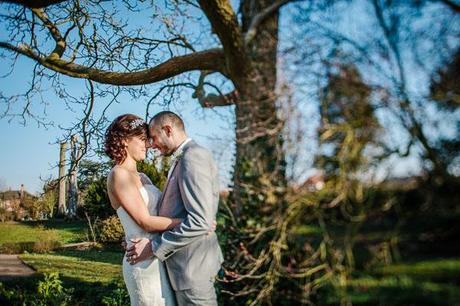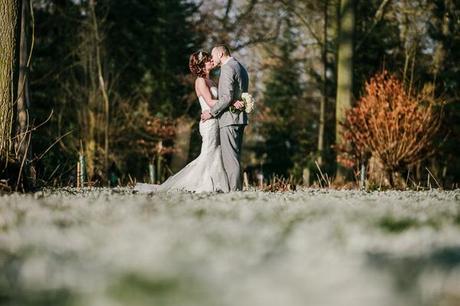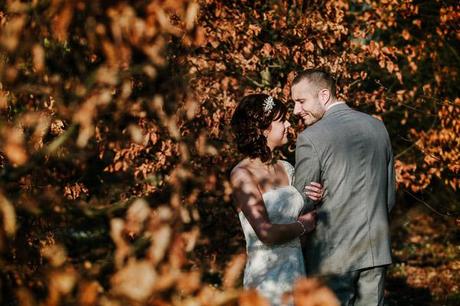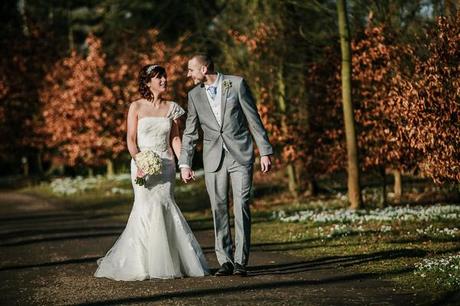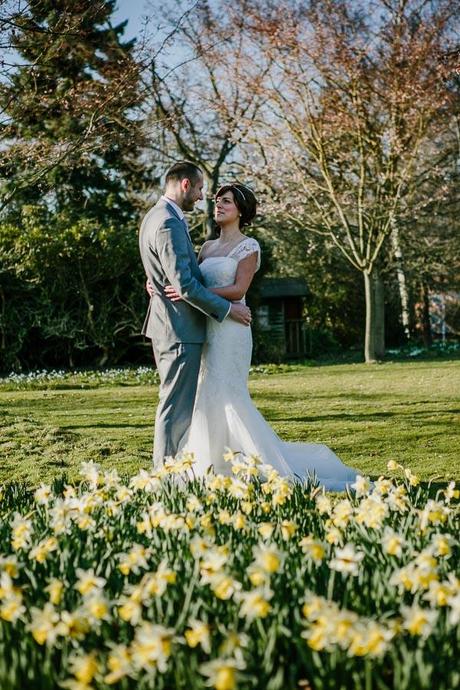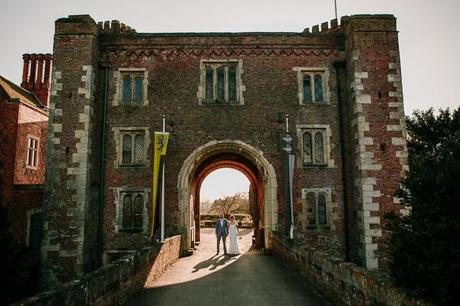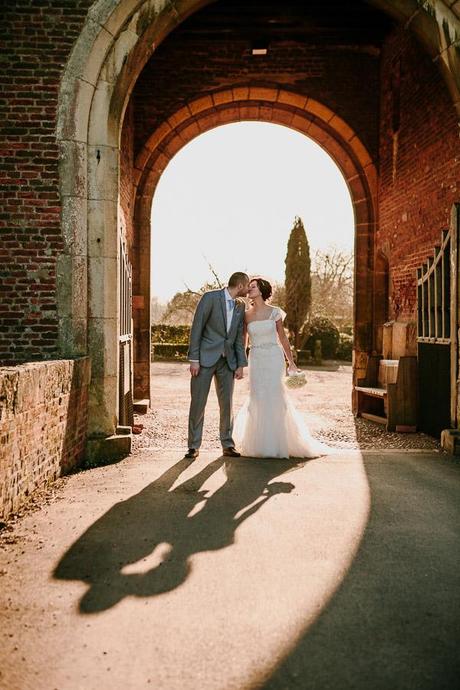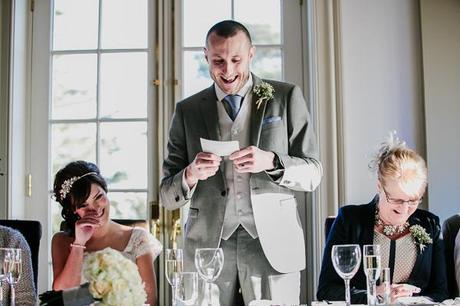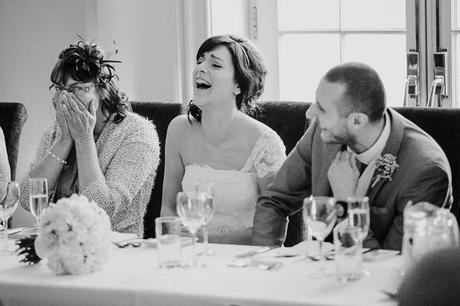 The bride and groom: Melissa
&

Richard
Wed­ding venue:
Hod­sock Pri­ory, Blyth, Nottinghamshire
Wed­ding photographer:
How would you describe your wed­ding style?
Vintage/Handmade
Invi­ta­tions and recep­tion stationery:
My mom made our invi­ta­tions with hearts in ditsy print, lace and but­tons– they looked fantastic!
What did you wear?
My wed­ding dress was by Ben­jamin Roberts – and I loved it!! I tried on so many dresses and couldn't find one that was just right until I went to Beau­ti­ful Brides in Not­ting­ham and found the one! I got so many lovely com­ments about my dress! Shoes: Belle by Para­dox. Side tiara from Beau­ti­ful Brides, I bought my ear­rings and bracelet both online, bracelet from Divine Des­tiny and ear­rings from Vin­tage Styler.
Richard's suit was from Next, his waist­coat from Bur­ton Hire, polka dot tie from Tie Rack (my mom also made match­ing pocket squares out of one of the ties)
A lit­tle about the wed­ding ceremony:
It was lovely, small and inti­mate just how we wanted it. You really are obliv­i­ous to every­one in the room behind you dur­ing the cer­e­mony. Our read­ing was the extract from Cap­tain Corelli's Man­dolin read by one of my bridesmaids.
Tell us a lit­tle about your wed­ding venue styling and details:
Hod­sock Pri­ory is such a beau­ti­ful venue that it doesn't need lots of extra decoration.
My mom made hearts in var­i­ous fab­rics to hang on the end of the chairs down the aisle, she also made bunting for the top table.
We made our own place set­tings with brown lug­gage tags and paper doilies and I also made the table plan.
In the cen­tre of the tables we had gyp­sophila in jam jars.
Richard's sis­ter made our wed­ding cake and I made the bird cake toppers.
Instead of canapés we had dif­fer­ent flavoured gourmet pop­corn which we ordered from Joe

&

Seph's web­site – it went down a storm!
Wed­ding music and entertainment:
We had Sim­ply Strings trio play­ing our cer­e­mony music, I walked down the aisle to Canon in D. I felt the music was an impor­tant part in cre­at­ing the right atmos­phere for the cer­e­mony and Sim­ply Strings trio suited our venue per­fectly. In the evening we had our disco pro­vided by Xclu­sive Video Disco.
Mem­o­rable wed­ding day moments:
All of it!! We loved every minute of it and couldn't have wished for a more per­fect wed­ding day. The best men's speech was fan­tas­tic, they'd filmed their speech (at var­i­ous loca­tions) and played the video on the DJ's screens. The whole room was in fits of laugh­ter, it was so well put together and original!
Wed­ding day advice:
Just enjoy it! I know every­body says the same but the day really does go by so quickly, enjoy every minute!
Rec­om­mended wed­ding suppliers:
Hod­sock Pri­ory – A per­fect venue with a really help­ful wed­ding co-ordinator Lynda and lovely friendly staff.
Gail Dandy Cater­ing – The food was deli­cious! Gail was also a plea­sure to deal with, really friendly, help­ful and flex­i­ble to our requirements.
Tier­ney Pho­tog­ra­phy- Mark was fan­tas­tic and really made us feel at ease. Our pho­tos are amaz­ing and really tell the story of our day.