Vettel Crushes Rivals in Melbourne Qualifying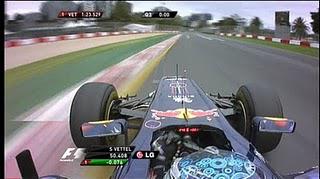 Vettel was untouchable throughout
qualifying in Melbourne.
Sebastian Vettel dominated qualifying in Melbourne on Saturday. He was quickest in all three parts of qualifying and was eventually 0.778 seconds faster than his closest rival Lewis Hamilton.
Vettel confirmed the speed shown by Red Bull throughout winter testing and secured the first pole position of 2011 and his sixteenth overall. Mark Webber was considerably slower than Vettel and qualified third, 0.866 seconds behind Vettel.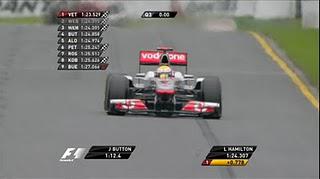 Lewis Hamilton starts from the front row.

McLaren have kept improving after their disappointing winter testing performance and confirmed the speed they showed in Friday's and Saturday's testing sessions. Lewis Hamilton beat Webber's time in the final seconds of qualifying and secured second place, 0.778 seconds behind Vettel. Button qualified forth, 0.472 seconds behind his teammate.Ferrari had been highly valued after their excellent winter testing performance, but Alonso and Massa were unable to match the speed ofMcLarens, let alone the Red Bulls. Fernando Alonso lost 1.445 seconds to Vettel and qualified fifth, Felipe Massa eighth, more than 2 seconds off the pace.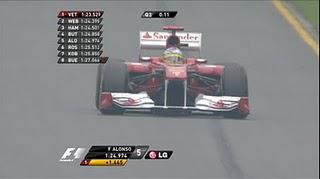 Ferrari and Fernando Alonso have not lived
up to expectations so far.
Robert Kubica showed the great potential of the Lotus Renault in the early stages of winter testing,  his absence cannot be compensated by the Lotus Renault team. While Vitaly Petrov was still able to secure sixth place on the grid, was Nick Heidfeld not capable of coming out of qualifying one, he only qualified seventeenth. Lotus Renault's decision to replace Kobica with Heidfeld has to be questioned, even more with a driver like Nico H체lkenberg ready to step in.Another oldie in the field, Michael Schumacher, showed an unsatisfying performance. He was just under a tenth of a second too slow to get into qualifying three and has to live with eleventh place on the grid. Mercedes were not capable of delivering the pace they showed at their final winter tests in Barcelona with their second driver Rosberg qualifying in seventh place, almost 2 seconds behind the leader.Rookie Paul di Resta is only fourteenth on the grid, but he once more outperformed his experienced teammate Adrian Sutil.The Hispania drivers, who had not tested their 2011 car before Melbourne, failed to stay within the 107 percent rule. Neither Vitanonio Liuzzi nor Narian Karthikeyan are therefore qualified for tomorrow's race, which consequently is going to be started with only 22 drivers on the grid.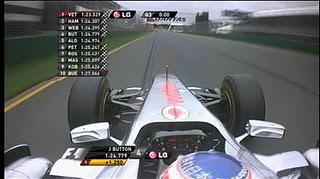 Jenson Button won the last two races in Melbourne
for Brawn and McLaren.
The podium looks to be already booked by Red Bull and McLaren, but it's still early days and a lot can happen in 58 laps of racing. A big question mark has to be put behind the tyres' performance in terms of how the degradation is going to affect the lap times and the amount of pit stops. However, Sebastian Vettel remains the big favourite for the race on Sunday. Ferrari could be fighting for a podium, Mercedes seem too far off already.Melbourne Qualifying Final Results
  Pos. Driver Nat. Team Q1 Q2 Q3 Gap
  1 Sebastian Vettel German Red Bull 1:25.296 1:24.090 1:23.529  
  2 Lewis Hamilton British McLaren 1:25.384 1:24.595 1:24.307 +0.778
  3 Mark Webber Australian Red Bull 1:25.543 1:24.658 1:24.395 +0.866
  4 Jenson Button British McLaren 1:25.707 1:24.957 1:24.779 +1.250
  5 Fernando Alonso Spanish Ferrari 1:25.717 1:25.242 1:24.974 +1.445
  6 Vitaly Petrov Russian Lotus Renault 1:25.856 1:25.582 1:25.247 +1.718
  7 Nico Rosberg German Mercedes 1:25.886 1:25.606 1:25.421 +1.892
  8 Felipe Massa Brazilian Ferrari 1:25.900 1:25.611 1:25.599 +2.070
  9 Kamui Kobayashi Japanese Sauber 1:25.812 1:25.405 1:25.626 +2.097
  10 Sebastien Buemi Swiss Toro Rosso 1:25.962 1:25.882 1:27.066 +3.537
  11 Michael Schumacher German Mercedes 1:26.031 1:25.971   +1.881
  12 Jaime Alguersuari Spanish Toro Rosso 1:26.232 1:26.103   +2.013
  13 Sergio Perez Mexican Sauber 1:26.245 1:26.108   +2.018
  14 Paul di Resta Scottish Force India 1:26.270 1:26.739   +2.649
  15 Pastor Maldonado Venezuelan Williams 1:26.298 1:26.768   +2.678
  16 Adrian Sutil German Force India 1:26.620 1:31.407   +7.317
  17 Rubens Barrichello Brazilian Williams 1:27.222 no time set    
  18 Nick Heidfeld German Lotus Renault 1:27.239     +1.943
  19 Heikki Kovalainen Finnish Team Lotus 1:29.254     +3.958
  20 Jarno Trulli Indian Team Lotus 1:29.342     +4.046
  21 Timo Glock German Virgin 1:29.858     +4.562
  22 Jerome D'Ambrosio Belgian Virgin 1:30.822     +5.526
  23 Vitantonio Liuzzi Italian Hispania 1:32.978     +7.682
  24 Narain Karthikeyan Indian Hispania 1:34.293     +8.997