Vettel Sets Fastest Time in Final Practice Session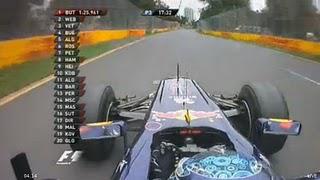 Red Bull seem to have the upper hand going into qualifying on the street circuit around Albert Park Lake in Melbourne. In the third and last practice session Sebastian Vettel set a stunning lap time of 1:24.507, 0.857 seconds in front of teammate Mark Webber.
McLaren presented themselves strongly again with Hamilton (+1.046) and Button (+1.060) being Red Bull's first challengers.
The teams' real strength can only be guesstimated at this stage, but Red Bull seem to be set for pole position. Ferrari have proven time and again that they can pull something out of the bag when going into qualifying and there might be an interesting battle between Ferrari and McLaren for the second row on the grid.
While Mercedes struggled for pace, Lotus Renault and  Sauber might turn out to spoil Schumacher's and Rosberg's afternoon.
Meanwhile Narain Karthikeyan has set the first timed lap for Hispania, but with more than 17 seconds off the pace they will hardly have any chance of delivering a lap time within the postulated 107 percent of the fastest time in Q1, which would allow them to start the race.

 Saturday Practice Results
  Pos. Driver Nat. Team Time Gap Laps
  1 Sebastian Vettel German Red Bull 1:24.507   15
  2 Mark Webber Australian Red Bull 1:25.364 +0.857 14
  3 Lewis Hamilton British McLaren 1:25.553 +1.046 15
  4 Jenson Button British McLaren 1:25.567 +1.060 16
  5 Vitaly Petrov Russian Lotus Renault 1:25.906 +1.399 18
  6 Fernando Alonso Spanish Ferrari 1:26.121 +1.614 16
  7 Kamui Kobayashi Japanese Sauber 1:26.417 +1.910 17
  8 Nico Rosberg German Mercedes 1:26.520 +2.013 17
  9 Nick Heidfeld German Lotus Renault 1:26.746 +2.239 17
  10 Michael Schumacher German Mercedes 1:26.856 +2.349 15
  11 Sebastien Buemi Swiss Toro Rosso 1:27.008 +2.501 17
  12 Felipe Massa Brazilian Ferrari 1:27.011 +2.504 15
  13 Jaime Alguersuari Spanish Toro Rosso 1:27.066 +2.559 14
  14 Paul di Resta Scottish Force India 1:27.087 +2.580 15
  15 Adrian Sutil German Force India 1:27.180 +2.673 15
  16 Rubens Barrichello Brazilian Williams 1:28.068 +3.561 7
  17 Sergio Perez Mexican Sauber 1:28.077 +3.570 9
  18 Heikki Kovalainen Finnish Team Lotus 1:29.778 +5.271 17
  19 Jarno Trulli Indian Team Lotus 1:30.003 +5.496 18
  20 Timo Glock German Virgin 1:30.261 +5.754 15
  21 Pastor Maldonado Venezuelan Williams 1:30.496 +5.989 5
  22 Jerome D'Ambrosio Belgian Virgin 1:30.704 +6.197 18
  23 Narain Karthikeyan Indian Hispania 1:41.554 +17.047 5
  24 Vitantonio Liuzzi Italian Hispania     1