Jenson Button Fastest in Second Practice Session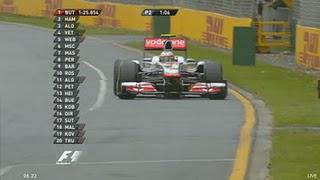 McLaren with Button first and Hamilton second (+0.132) set the pace in the second practice session in Melbourne. It is safe to assume, though, that Red Bull and Ferrari have not shown their hand yet. Nevertheless is it a remarkable recovery for McLaren, since they were well off the pace throughout pre-season tests.Fernando Alonso was third-fastest on Friday, only slightly off the McLarens' pace, 0.015 seconds behind Hamilton. World champion Sebastian Vettel and Mark Webber were forth and fifth, 0.160 and 0.429 seconds behind Button.Mercedes does not seem to be able to keep up with the speed they showed during the winter tests in Barcelona when Michael Schumacher set the fastest overall time. His best effort on Friday brought him sixth place, 0.736 seconds off the pace. Felipe Massa (+0.935), Sergio Perez (+1.247), Rubens Barrichello (+1.426) and Nico Rosberg (+1.594) completed the top ten.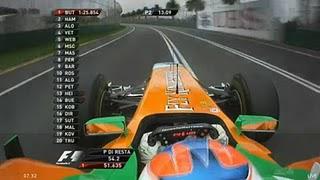 Paul di Resta in his Force India. First full weekendcommitment for the Scot in Formula 1. He was capableof outperforming his experienced teammate on Friday.

Less than three minutes before the chequered flag came out Vitantonio Liuzzi drove the new Hispania car for the first time ever for one single installation lap. Not a very promising prospect for the Spanish based team.On Saturday the third and final practice session will take place, followed by the qualifying showdown. It will not be until then that we can tell the real strength of the teams.Second Practice Results on Friday
  Pos. Driver Nat. Team Time Gap Laps
  1 Jenson Button British McLaren 1:25.854   32
  2 Lewis Hamilton British McLaren 1:25.986 +0.132 31
  3 Fernando Alonso Spanish Ferrari 1:26.001 +0.147 28
  4 Sebastian Vettel German Red Bull 1:26.014 +0.160 35
  5 Mark Webber Australian Red Bull 1:26.283 +0.429 33
  6 Michael Schumacher German Mercedes 1:26.590 +0.736 31
  7 Felipe Massa Brazilian Ferrari 1:26.789 +0.935 34
  8 Sergio Perez Mexican Sauber 1:27.101 +1.247 39
  9 Rubens Barrichello Brazilian Williams 1:27.280 +1.426 34
  10 Nico Rosberg German Mercedes 1:27.448 +1.594 23
  11 Jaime Alguersuari Spanish Toro Rosso 1:27.525 +1.671 31
  12 Vitaly Petrov Russian Lotus Renault 1:27.528 +1.674 29
  13 Nick Heidfeld German Lotus Renault 1:27.536 +1.682 22
  14 Sebastien Buemi Swiss Toro Rosso 1:27.697 +1.843 30
  15 Kamui Kobayashi Japanese Sauber 1:28.095 +2.241 35
  16 Paul di Resta Scottish Force India 1:28.376 +2.522 33
  17 Adrian Sutil German Force India 1:28.583 +2.729 31
  18 Pastor Maldonado Venezuelan Williams 1:29.386 +3.532 29
  19 Heikki Kovalainen Finnish Team Lotus 1:30.829 +4.975 22
  20 Jarno Trulli Italian Team Lotus 1:30.912 +5.058 23
  21 Jerome D'Ambrosio Belgian Virgin 1:32.106 +6.252 36
  22 Timo Glock German Virgin 1:32.135 +6.281 30
  23 Vitantonio Liuzzi Italian Hispania     1
  24 Narain Karthikeyan Indian Hispania     0