Webber Fastest in First Practice Session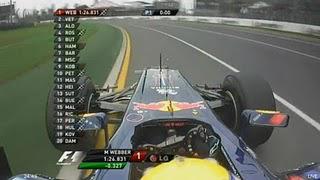 Webber fastest in Practice 1
Apart from installation laps no serious driving took place for the first half hour in Friday practice 1, the only thing worth mentioning being an early crash by Karun Chandhok, who damaged his car so severely that he lost the whole session.

It was Felipe Massa who finally set the first lap time after 38 minutes into the session. Eventually Massa finished the session outside the top ten, 2.011 seconds off the pace.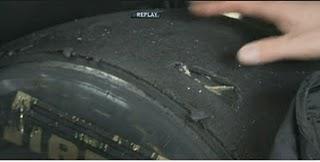 Hard Pirelli tyre after some hot laps on Vettel's car
Fastest of Friday practice 1 was Mark Webber, followed by team mate Sebastian Vettel (+0.327). Fernando Alonso (+0.918) finished third, almost one second behind Webber. Rosberg (+1.321) and Barrichello (+1.599) completed the top five.

McLaren seem to have at least partly recovered from there winter test debacle with Jenson Button sixth (+1.609) and Lewis Hamilton seventh (+1.652). Schumacher was eighth, 1.859 seconds behind Webber and more than half a second off his teammate's pace.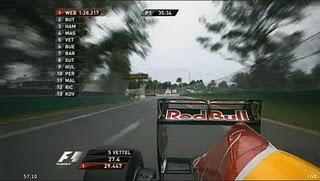 Sebastian Vettel finished second in practice 1,
here with his adjustable rear wing activated
As we are going to see in future practice 1 sessions, Force India and Toro Rosso replaced Paul di Resta and Jaime Alguersuari with their reserve drivers Nico H체lkenberg and Daniel Ricciardo.
First Practice Results on Friday
  Pos. Driver Nat. Team Time Gap Laps
  1 Mark Webber Australian Red Bull 1:26.831   20
  2 Sebastian Vettel German Red Bull 1:27.158 +0.327 19
  3 Fernando Alonso Spanish Ferrari 1:27.749 +0.918 20
  4 Nico Rosberg German Mercedes 1:28.152 +1.321 16
  5 Rubens Barrichello Brazilian Williams 1:28.430 +1.599 24
  6 Jenson Button British McLaren 1:28.440 +1.609 29
  7 Lewis Hamilton British McLaren 1:28.483 +1.652 26
  8 Michael Schumacher German Mercedes 1:28.690 +1.859 14
  9 Kamui Kobayashi Japanese Sauber 1:28.725 +1.894 13
  10 Vitaly Petrov Russian Lotus Renault 1:28.765 +1.934 15
  11 Felipe Massa Brazilian Ferrari 1:28.842 +2.011 20
  12 Nick Heidfeld German Lotus Renault 1:28.928 +2.097 14
  13 Adrian Sutil German Force India 1:29.314 +2.483 19
  14 Sebastien Buemi Swiss Toro Rosso 1:29.328 +2.497 21
  15 Pastor Maldonado Venezuelan Williams 1:29.403 +2.572 24
  16 Daniel Ricciardo Australian Toro Rosso 1:29.468 +2.637 23
  17 Sergio Perez Mexican Sauber 1:29.643 +2.812 18
  18 Nico H체lkenberg German Force India 1:31.002 +4.171 20
  19 Heikki Kovalainen Finnish Team Lotus 1:32.428 +5.597 13
  20 Jerome D'Ambrosio Belgian Virgin 1:35.282 +8.451 17
  21 Timo Glock German Virgin 1:35.289 +8.458 15
  22 Karun Chandhok Indian Team Lotus     1
  23 Narain Karthikeyan Indian Hispania     0
  24 Vitantonio Liuzzi Italian Hispania     0