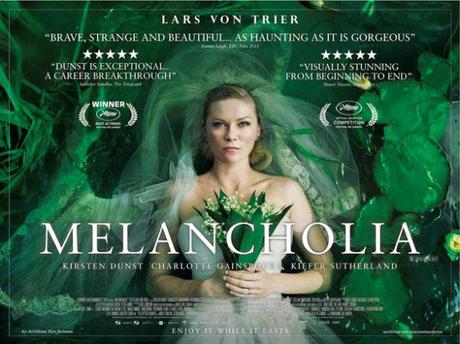 In recent years, though he has stuck to his well-known style of handheld camera and somewhat shaky cinematography, Lars von Trier has made movies that, despite their often incredibly disturbing subject matter, are almost operatic in scope and substance, and visually spectacular in their use of bold colours, slow motion, and orchestral score.
Melancholia is the second in a trilogy of films that began with Antichrist and is set to end this year or next year with The Nymphomaniac. Much of Lars von Trier's career has consisted of trilogies; his first three major feature films The Element of Crime, Epidemic and Europa formed the "Europa trilogy"; Breaking the Waves, The Idiots and Dancer in the Dark formed the "Golden Hearts trilogy," and Dogville and Manderlay were the first two films in an as-yet-unfinished trilogy about life in small-town America during the Depression. It was with Antichrist that his cinema began to really cement itself in a style and look that has become unmistakably associated with him. Themes of sexual tension, misogynism, and cynical nihilism coloured Antichrist and are present here in Melancholia, a quintessentially von Trier drama. It is a condemnation of the formulaic end-of-the-world action movie; sure it contains sequences of stunning special effects, but the film largely focuses on the disconnection between two sisters as one of them is getting married and the other is coping with fears of an apocalypse.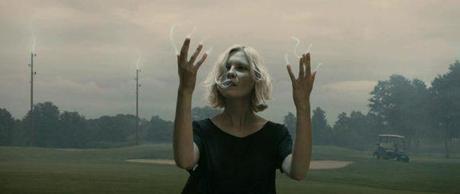 Von Trier has said that this is his first film not to have a happy ending. Though in general it's difficult to agree with this statement, it certainly has a more depressing ending than its predecessor. Whereas in Antichrist there was a glimmer of hope in the final moments, there is a loud, indescribable explosion and unforgettable fade to black at the end of this one. It's not a spoiler to say that the world does end at the end of this film, because the film is not about an apocalypse. It simply uses that storyline to help fuel a despairing look into the emotional turmoil encompassing both sisters, whose reactions to the impending doom are startlingly different. Whereas Claire (Charlotte Gainsbourg) is terrified and unnerved, Justine (Kirsten Dunst) slips into frequent bouts of melancholy, and an occasional non-responsive stupor; an almost catatonic state where the supposedly unimportant world around her is shut out. This occurs chiefly in the film's more interesting second half. If the film had one weakness, it would be annoying shift in pace between the first and second halves, which if done more carefully, would be unnoticeable, but here is sharp, distracting and annoying. 
But it is a very small criticism, as on a whole, the film is terrific. The opening scene, which consists of a slow motion ballad of characters running in terror or standing in awe as the planet Earth reaches its crushing denouement, echoes the prologue of Antichrist, and equals it for its sheer beauty and surreal visual presentation. I am excited to see if he repeats this in The Nymphomaniac; his choice of music is perfect, and I can conceivably see these opening sequences appearing in many more subsequent films of his; they seem to be a rich, beautiful trademark of von Trier's new cinema, and an almost perfect final touch on an almost perfect film.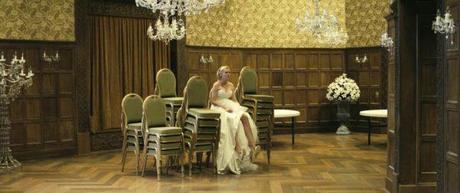 The relationship between Claire and Justine is simultaneously fascinating and destructive. The first half of the film focuses on Justine's wedding, and uses familiar von Trier trademarks, such as uncomfortably awkward sex scenes and supporting characters such as parents and friends, who are portrayed as villainous rather than helpful. Von Trier also manages to emphasize the loneliness of the two sisters by introducing various supporting characters in the first half and dropping them almost completely from the second half. The film, which starts off vibrant and bubbling with life, becomes hollow and lonely by the end.
I see a lot of Lars von Trier in the two sisters. His cynicism and emptiness is represented by Justine, who has several moments, particularly in the second half, where she delivers her lines with an almost terrifying coldness; and his horror for the changing world is represented by the frail and clingy Claire, whose idea of what to do as the world is ending is a static clichè, the embarrassing product of a despairing mind. In recent years, von Trier suffered from rather serious bouts of depression, where he was reduced into a lonely, empty, soulless state that made it almost impossible to work. Melancholia is one of his best films, a startling poem in which we can see von Trier battling his depression, the two sides of his personality arguing bitterly, in a futile attempt to reach an agreement, a satisfactory conclusion which for him, will never come.