Rainy days are perfect baking days. 
Having said that, I rarely bake because that means you have to eat it and really because I am not very good at it. But I do enjoy spending time with Little M and letting him make things and seeing him so focused and happy to see the finished product. 
On Saturday I decided I was going to make strawberry cupcakes with a cream cheese, honey and walnut frosting. Yes, my very own creation. I am not a fan of cupcakes, I don't like the sugary frosting (hence trying it with cream cheese) but they are fun to make with kids.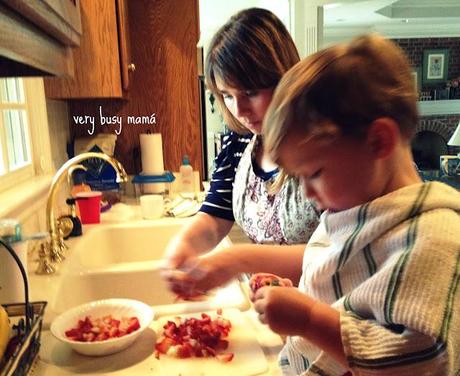 I didn't have Little M's dinosaur apron with us at my inlaws so I wrapped a tea towel around him. He helped me wash and cut the strawberries, then we got down to business!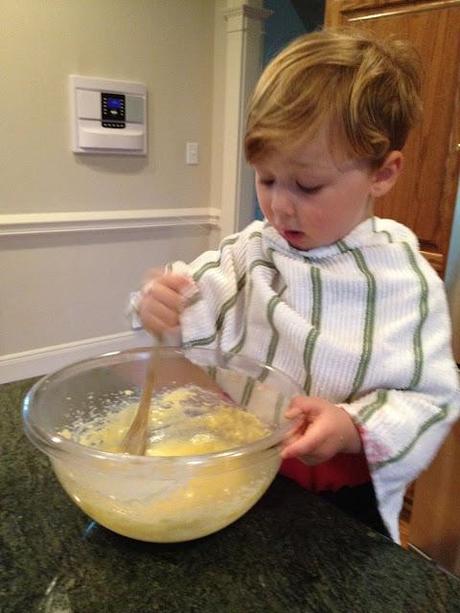 He's an excellent mixer and with my help knows how to crack eggs very carefully. As for me, I had an apron to show off!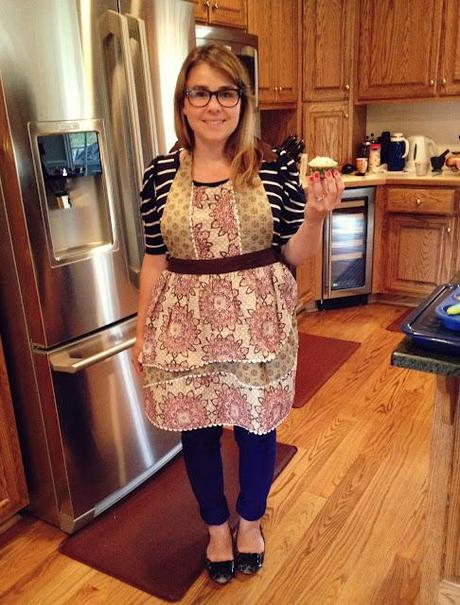 I got this super cute En Vogue Kitchen Impressions apron at TJ Maxx during Christmas time for $12.99. 
I love the retro feel and its feminine cut. Most aprons are rectangle shaped and look better on men than on women. They certainly don't have any "curvature" to them. This one wraps nicely around the waist and accentuates the bust oddly enough. Hmmmm? 
It just makes me WANT to be in the kitchen.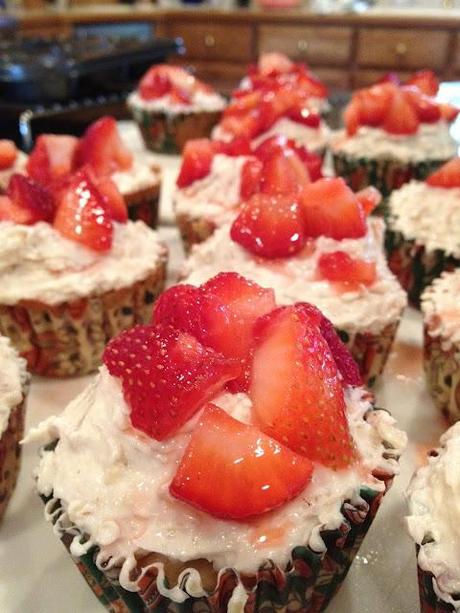 Anyway, apron aside, I had some cupcakes to make. The frosting turned out better than expected and I ended up adding the extra strawberries not used in the batter on top of each one. 
Of course, we "plated" them and had a lovely afternoon tea.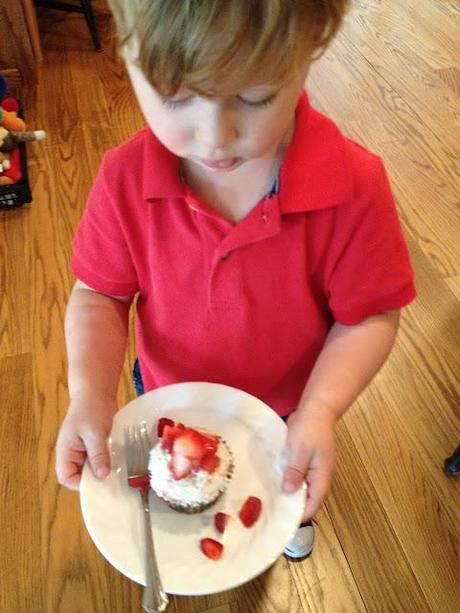 The recipe is easy if you want to try it, here's what you need:  
Batter 2 small boxes of strawberries 1 1/2 cup flour 1 cup sugar 1/2 cup butter 2 eggs 1 teaspoon (a little bit extra) baking powder 1/2 cup milk 2 teaspoons vanilla extract
Cream Cheese frosting 2 packets of cream cheese honey 2 handful of finely chopped walnuts 2 heaped spoons of sugar or splenda Strawberries
I really don't measure and follow recipes, but mine went a little something like this:
Preheat oven to 350 F or 180 C Mix sugar and butter then add the eggs Add vanilla Mix in baking powder, flour and MIX WELL Add milk  Add cut up strawberries  Pour/scoop out into the cupcake holders Bake for 30 minutes
For the frosting, just mix all the ingredients together to taste. I just added honey to my liking. 
After cupcakes have cooled, cover with frosting and then add spoonfuls of strawberries to each. 
Eat immediately!
What about you, do you cook in style?!
Apron: En Vogue Kitchen Impression Flats: Clarks Jeans: Primark Top: Mango MNG from JCP Glasses: Gok Won for SpecSavers