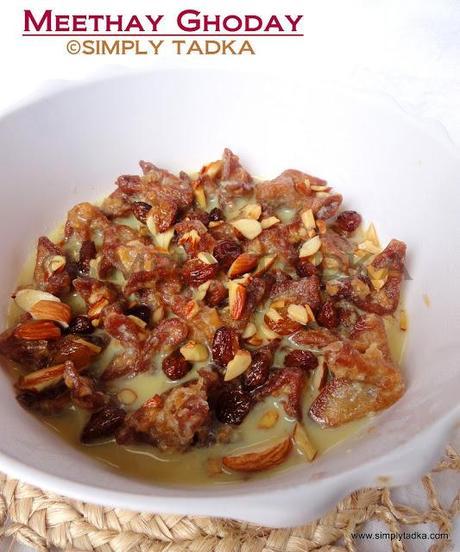 For Indian Cooking Challlenge hosted by Srivalli has decided to prepare "Meethay Ghoday" from Hyderbadi Tradition for August challenge. This recipe is suggested by Mirellie, she is really fantastic Non- Indian food blogger from New York but still have wonderful knowledge about Indian Food. For ICC, we were adopted this recipe from Zaiqa blog. 
It's my first time when I prepared Hyberbadi Cuisine. Meethay Ghoday is very simple and easy to make dessert from Hyderbadi tradition food. It's a fried pasta form flowers which made by wheat flour and all-purpose flour and served with milk and nuts. Personally I prefer this dessert as chilled form.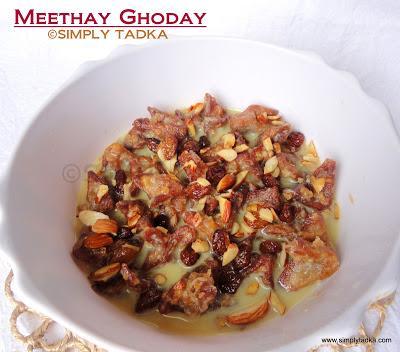 Preparation Time:  1 Hour
Cooking Time:  15 Minutes
Servings: 2 Persons
Recipe Source: Zaiqa
Ingredients:
3/4 Cup Flour (1/2 plain flour+ 1/4 wheat flour)
Pinch of Salt
1 Tsp. Ghee
Water for kneading
1 1/2 Cup Milk
1/2 Cup Sugar
2 Tbsp. Raisins and Almonds (Shallow Fried), for garnishing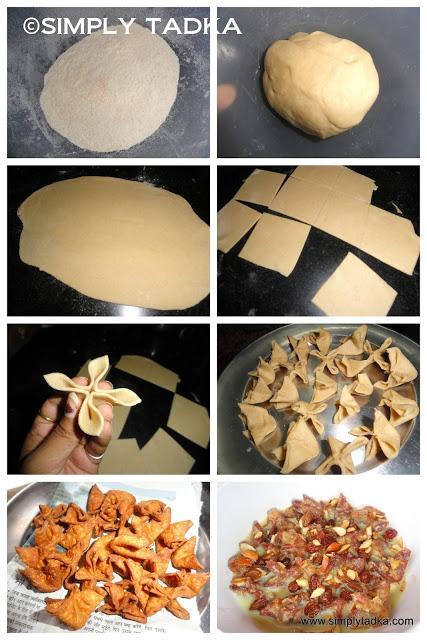 Instructions:
Sieve the both flours and combine salt, oil and water to knead the dough.
Cover with damp cloth and keep aside for 30 Minutes.
Divide the dough into two portions and roll it as round disc using rolling pin.
Cut the dough into square shape using pizza cutter.
Prepare each square in flower shape as shown in picture.
Keep aside and leave the shaped flowers on plate for 6-8 hours or overnight until they are dry or hard.
Heat the oil or ghee in pan and deep fry them till to golden. 
Drain them on platter and keep aside.
Heat the milk with one cup water in another pan.
When it become boiling, add fried flowers and mix well.
Cover and cook for 15 minutes on low flame until they are softened.
Add sugar and mix again. Add more water if needed.
Now add shallow fried almonds and raisins and transfer into serving bowl.
Let it cool on room temperature and serve.
Enter your email address:
Delivered by
FeedBurner