Mediterranean Style has a romantic allure that is unmistakably attractive. Drawing influence from countries lining the Mediterranean Sea, this décor hails from geographic locations ranging from Spain all the way to Turkey. Simplistic yet luxurious, this timeless design captures the gaze of the eye and remain in your thoughts for hours. Euphoric, passionate, and filled with powerful vibes, Mediterranean Bathroom Designs are natural and unpretentious.
Characteristics of Mediterranean Bathroom Design
Mediterranean influenced designs can be distinguished by several interwoven characteristics. Clean lines, bold colors, and the incorporation of wrought iron accessories. This combination makes for rustic yet elegant bathroom designs that somehow manage to remain luxurious all the while.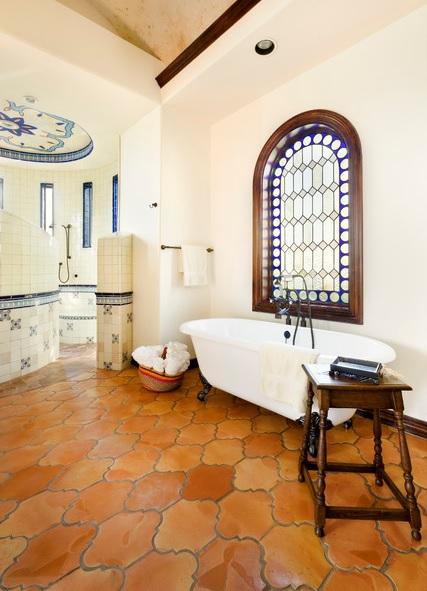 Tiles and mosaics are an essential element in Mediterranean Bathroom décor. Floors can be made out of cool terracotta tiles or a backsplash created from hand-painted ceramic tiles. The use of bright colors is also especially unique. Shades of blue, warm oranges, red & yellow hues are common-place in these richly flavored patterns.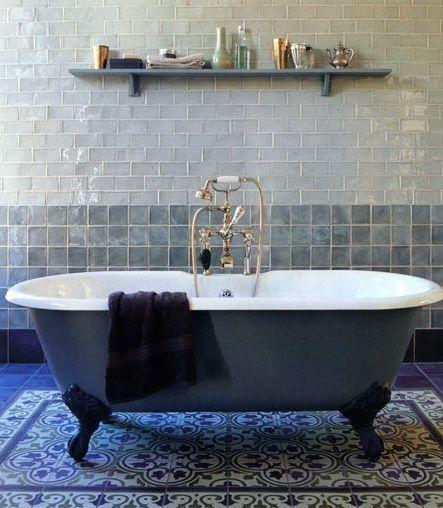 As for architectural inspiration, you will notice curved arches, windows, and mirrors over bathroom vanities. Another way to implement this style in your home without major renovation is by applying arched and curved lighting fixtures to your décor.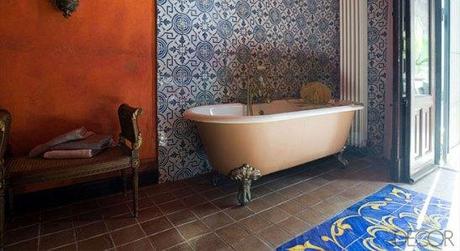 Mediterranean tiles are abstract and full of life. (via: Essenziale)
"The romantic feel of Mediterranean style evokes images of seaside dwellings, sparkling turquoise waters, sun-drenched days, and vibrant sunsets. The region's easy elegance is reflected through its stunning homes. This style relies on casual, rustic textures and finishes in classic European lines and forms to reflect the local landscape. Low maintenance materials, earthly but bold colors, wrought iron accents and plenty of natural light emphasize the low-key luxury that the Mediterranean is known for."
-via Houzz
A culturally influenced designed, Mediterranean inspirations are a great idea for individuals aiming to create unique, relaxing, and deluxe spaces. This style contrasts contemporary styles and returns to simplistic lifestyles with minimal eccentricities. Effectively transform your bathroom and your state of mind.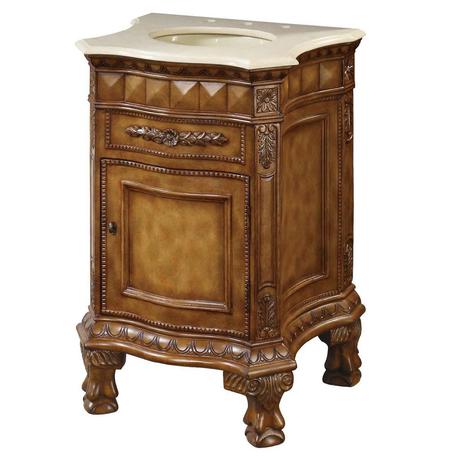 Inspired by Mediterranean influences, the Turin Small Bathroom Vanity features a creamy marble counter top and rich details.
About this Post
This post was curated by Cheryl Khan who is a contributor to the Patio Productions Blog. She is fond of eclectic styles that bring out mixed emotions and strong feelings. She believes that the heavy use of bright colors is enlightening and refreshing.