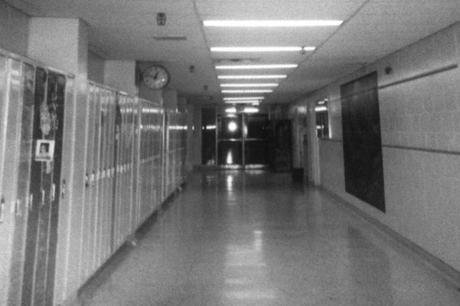 The basement of St. Joseph's College School in 2003.
St. Joseph's College School — an all-girls Catholic School in Toronto — was the focus of national headlines after the head janitor was charged with several offenses, including attempted murder and attempted arson with disregard for human life.
(Full disclosure: I used to go to SJCS — located at 74 Wellesley St. W., near Bay Street — so I've read every news story available on the accusations with great concern. I also write for CBCNews.ca, but I am not handling this story.)
Several current and former students and staff are trying to process the fact that a trusted janitor, who served the school for 15 years, could face serious jail time if convicted.
I should state in no uncertain terms that the presumption of innocence is paramount, but I also think it's important to review the allegations.
Here's what I've learned from several media reports: 
Vincent Perna (known to students as Mr. Perna and to staff as Vince) faces the following charges:
Attempted murder
Breaking and entering with intent
Mischief endangering life
Attempted arson with disregard for human life
Common nuisance
It is alleged that at roughly 7 a.m. on Thursday, Perna:
Broke into one of the school's mechanical rooms in the basement
Cut the main gas line with the intention of causing an explosion
Responded to a complaint from kitchen staff, who said they couldn't light their stoves
Was attempting to help light the stove when staff smelled gas and rang the fire alarm at around 7:50 a.m.
The school was evacuated prior to the official start of the school day.  Students and staff already in the building were asked to wait at nearby Queen's Park, while students arriving to school were sent to join them.
No one was injured and the school was not damaged. The students were unaware of accusations against their long-time custodian until the details were released to the media on Friday — the same day Perna appeared in court at Old City Court.
Here are some other things that were said about Perna:
Vincent Perna, as pictured in SJCS's 2003 yearbook

Has no previous record of any abnormal behaviour and has worked for SJCS for 15 years (Jon Yan, TCDSB spokesman)

Worked for the Catholic board for 30 years and was nearing retirement (School trustee Jo-Ann Davis)
Was described by the TCDSB as a "model employee" with which they had never had a dispute.
Has been suspended pending the outcome of the legal process.
And these are some key facts about SJCS:
It's Catholic all-girls school that is part of the Toronto Catholic District School Board
It is not a private school or a boarding school, as some media have reported
The school population is about 800 people, roughly 750 of which are students.
It's a very old school with a reputation for academic excellence, established by the sisters of St. Joseph in 1854 as St. Joseph's Academy for Young Ladies
Quotations 
Const. Tony Vella, Toronto police spokesperson

"The intention was obviously to cause the flame to go in the air for some sort of explosion," he said. "[Police] noticed the gas line was cut and looked into it further and it's alleged he did it." (Toronto Sun)
"It was to cause danger to the students and to the staff members … But that never happened. The situation could have been much worse." (Toronto Sun)
"The odor of the school made some of the staff as well as some of the students ill. One of the staffer's, excellent work, pulled the fire alarm, activated it. As a result emergency personnel go to the school." (CBC News)
"It's a rarity. Fortunately, it doesn't occur all the time, but obviously it has occurred one time. So, it's obviously concerning to us." (National Post)
"He was attempting to kill people." (CNN)
"The intention was obviously to cause the flame to go in the air for some sort of explosion." (NewsCore)

John Yan, Toronto Catholic District School Board spokesperson

"Students and staff were never in danger at any point … Once gas was smelled in the air, police and [Enbridge] came very quickly and the gas was shut off." (Toronto Sun)
"Students were evacuated as a precautionary measure and emergency services, including Enbridge and the fire department, arrived on scene and shut off the gas." (Toronto Star)
"By all accounts, he was a model employee … He has no previous record of problems with the school." (National Post)

School trustee Jo-Ann Davis and SJCS alumna

"It's obviously shocking … We're very close quarters to a condominium high rise that's next door as well as St. Michael's Residence next door and the university behind. It's a high density area of the city. Thank God, it was discovered. My prayers are with everyone involved, including Mr. Perna. I can't imagine what could have happened to make this occur." (Toronto Sun)
"Obviously the assumption was there was a faulty gas line, not that it was perpetrated and done on purpose." (Toronto Star)

Yasmeen Mounir, student

"We were thrilled we were getting out of first period but no one really knew what was going on so we didn't have much of a reason to get super stressed." "We didn't even hear anything until we saw it on the news." (CBC News)
"He was very demure, he didn't really talk that much." "It's not like he made conversation with the students, he just sort of did his job." (CBC News)
"I'm not quite sure whether I believe that he did it or not. Just because he doesn't seem like the type of person to do it." (CBC News)

Sabrinna Kulnys-Douglas, grade 11 student

"I don't know janitors by name … I have no clue what would have caused him to do that. It wasn't so scary at the time when it happened, but knowing my school could have exploded, it's scarier." "It smelled so bad…like rotten eggs." (Toronto Sun)

Natasha and Anna Tyzler, grade 12 student and parent

"We never entered into the school … It was all over Twitter that there was a gas leak at the school and there were teachers outside sending us to Queen's Park." "Everyone's shocked … [Perna] supported us on our journey," said Natasha Tyzler, a basketball team player who added that Perna attended all the games and made the players lunch when the team made city-wide finals in 2011. (Toronto Star)
"[Perna] was very pleasant and nice. He volunteered his time on the weekends … The nicest person I could speak to and hence the reason I was in complete shock." – Anna Tyzler (Toronto Star)
Other interesting points
The owner of General Gas Service in Toronto told the Sun that the intensity of the explosion depends on how long the room was filling up with the substance and the size of the room. But any open flame could have set off the blast, including flicking on light switches.
Yan told the Post the school runs a daily breakfast program for that girls that begins just before 8 a.m., and that the kitchen staff may have asked Perna for his help lighting the unresponsive stove.
The Post reported that school officials sent a letter to students stressing that everyone is innocent until proven guilty, and to offer counselling to those rattled by the incident.