Do you remember the recipe of Kofta Curry in Coconut Milk I posted a few months ago? Meatballs are a kind of staple in my house and  a heirloom recipe being passed through generations. You know those kind of dishes that you make ever so often, no one in the house actually demand it. And those for which you just eye-ball the ingredients without having to measure them exactly. Meatballs are just that. And more. Ones that take you back in time to savor the childhood feats you have grown up to.
Further to the earlier recipe, let's talk about these pillowy soft meatballs stir fried in onion-tomato base; that if I may confess, also go pretty well with spaghetti and not just chapatis or naan.  The meatballs are made with lean ground meat (a mix of beef and mutton or either one is absolutely acceptable), infused with fresh herbs and touch of spices. On their own they are luscious and full of flavour, but take a different note when juices from onion-tomatoes base are absorbed – a spoonful of which you want to relish a bit more.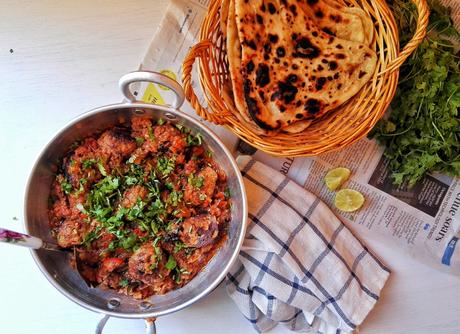 They are just good for anytime of the year or any of those days where you have 30 minutes to cook your meal.
If you make this recipe, kindly share your photos and feedback with the #thoughtsoverchai on Instagram and Facebook. I'd love to see your creations!
Meatballs in onion-tomato sauce
Ingredients:
(serves 4)
For meatballs:
Minced lamb meat – 500 gms
Onions – 1, finely sliced
Coriander leaves – 1 tbsp
Mint leaves – 1 tbsp
Egg – 1
Roasted gram flour – 2 tbsp
Ginger – 1 tsp, grated
Garlic – 2 cloves
Red chilli powder – 1 tbsp
Coriander powder – 1tbsp
Tomato ketchup – 2 tbsp
Salt to taste
Coriander powder – 1 tbsp
For sauce:
Onions – 3
Tomatoes – 2
Star anise – 2
Black cardamom – 2
Ginger – 2 tsp, freshly grated
Red chilli powder – 2 tbsp
Coriander powder – 1 tbsp
salt to taste
Garam Masala powder – 1 tsp
Coriander leaves – chopped
Ghee (clarified butter) or oil – 2 tbsp
Method:
Making meatballs : Wash and drain the meat of water. Fix the onion blade and basket in Philips Onion Chopper. Place an onion and chop it finely. Remove the basket and onion blade and add the rest of the ingredients. Beat for a few minutes until they all come together and form a ball. Make lime sized balls by dashing a drop of water on your hands. Cover with cling film and keep aside for 30 minutes. If you are keeping it for a longer time, place them in the refrigerator and remove 15 minutes prior to their use. Heat a dollop of butter in a non-stick pan. Place the meatballs, not overlapping each other. Cook for 8 minutes per side on medium flame until they turn brown. Remove on a paper towel
For the gravy :  Blend tomatoes to a fine puree in a blender using Philips Food Processor and chop onion in Philips Onion Chopper. Heat ghee or oil in a deep cooking pot and sizzle star anise and black cardamom. Saute onion and ginger over a medium heat until it turns translucent. Add the spices and tomato puree and cook until the oil start to leave from the sides. Add the meatballs. Sprinkle water and cook closed for about 4-5 minutes on medium-low heat. Garnish with coriander leaves and serve hot with naan or bread.