This one's for you, busy moms!
It's been one of those So Cal hot days and I wasn't up to walking to my local market. Come Monday – we generally make do with what is in the fridge. MIL shops on Tuesdays for the week. Not enough eggs, no tofu, no protein source (except Deli thin turkey slices) and I wasn't going to make turkey sandwiches (although I've done that before).  So I got creative!!
What's leftover?: Couscous
What condiments/seasonings/Soups?: Trader Joe's Tomato Soup, Marinara Sauce
Any protein? Deli thin turkey slices, 1 egg
So here's what I came up with: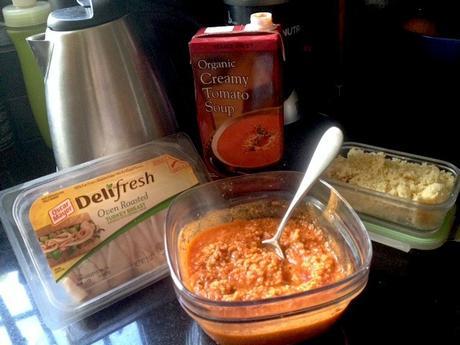 Recipe: Blend 1 cup cooked couscous with 4-5 slices of deli thin turkey and 1 Tablespoon olive oil. Mix with egg white. Add in 2 Tablespoons bread crumbs and season with Italian spices. Lightly pan fry using cooking spray to resemble ground beef, then add in 1/2 cup – 1 cup marinara sauce and a couple of Tablespoons of tomato soup, depending on how saucy you'd like it. It tastes great on its own, but you certainly can enjoy it over pasta as an alternative protein. Why not?! Meatballs are often made with egg and breadcrumbs. My kids burn plenty of energy for the extra carbs. But I'd certainly enjoy the "meat sauce" alone with a generous side of veggies. : )
Nutrition Notes:

Generally I use low sodium soup (and TJ's has some decent finds), but this was a MIL buy and we had it in the cupboard.
I don't use these turkey slices often, but it is a fav staple for my MIL and she eats very little as it is.
We have a good Marinara – it's got Tomatoes, onions, olive oil, salt, garlic, basil, spices (

Victoria – White Linen Collection

) Good taste —not the lowest in sodium, but not too high.  

Rao's Homemade

marinara (sensitive formula) is a little better on the sodium and also contains few and all-natural ingredients – and uses olive oil (not canola) — only 260 mg sodium per serving, but the Victoria – White Linen tastes a little better in my opinion.
Filed under: Build-a-Recipe Inspired, Challenges, healthy lifestyles, kids and toddlers, Nutri-Savvy, Recipes, Simple Meals