Every bath remodeling project encounters the debate between MDF or wood in the bathroom. MDF has built a bad name for itself by many woodworkers and purists. You may be surprised to find out that MDF is actually a good material to use on bathroom vanities. I'll explain below.
Don't write off real solid wood vanities either. Real wood is still a great material to use in the bathroom. Humidity plays a large role in the decision to use MDF or Wood in bathroom. According to the NAHB, bathroom cabinets can last a lifetime if properly cared for.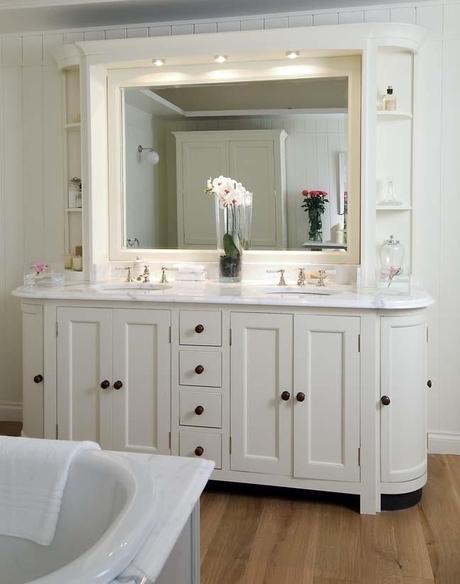 (Photo Credit: Chalon Handmade)
MDF or Wood in Bathroom? The decision depends on what's more important to you. Each has advantages and minor disadvantages but they are both fine for use in the bathroom.
What is MDF Wood?
MDF or Medium-Density Fiberboard is an engineered wood made from composite wood fibers and attached together using a wax or resin adhesive. A thin decorative layer is attached on top of a solid piece of wood. MDF is denser than plywood and is used all over the furnishing industry.
MDF is more economical and that's one of the main benefits. In the past, it's durability has come into question especially when placed in the humid bathroom conditions. When finished properly, MDF can be used in the bathroom without any problems.
[READ: How Much Can a Bathroom Remodel Add to Property Value?]
Wood Bathroom Vanities
Solid wood comes in two variations; solid wood (all natural real wood) and solid hardwood. Solid hardwood is the most durable wood material and is make from woods like oak, cherry and maple. Solid wood has the tendency to shrink and expand as humidity changes. Expansion can cause cracks in the painted finish and also warping (in extreme cases).
MDF or Wood Bathroom Vanities
Durability in Humid Conditions
MDF cabinets don't expand and contract as much as real wood but they can be damaged by moisture if water is allowed to penetrate the surface of MDF. This would result in swelling in your vanity. With proper ventilation, MDF can be used in the bathroom without problem. As an added precaution, you can seal the backs and edges around MDF cabinets with oil based sealer and a few coats of poly. This will prevent warping and shrinking.
Real wood is porous in nature so it will absorb water molecules in the air. This is what causes vanities to warp over time. Because of its unique finish, MDF can prove to be a better material in the bathroom so long as it has a quality finish. Stay away from cheap MDF vanities as those will bring you headaches in the future.
Make no mistakes, real wood is not a "bad" material by any means. It's been used for centuries in the past and is still the preferred option by many contractors. The strength and durability of solid wood is why many choose to go with wood bath vanities. By keeping humidity in control, most homeowners won't have any problems.
Tips to Control Humidity in the Bathroom
Humidity and moisture are a big deal in the bathroom. To learn more about proper ventilation, you can check out some of these posts I've written:
Panasonics' Third Generation Whisper Green Ventilation Fan
How to Get Rid of Shower Mold
Visual Appearance
Real wood carries a rich and natural grain texture that is authentic and appealing to the senses. MDF mimics the look of a natural wood finish but can be distinguished by a keen eye. Real wood looks better than MDF imitations.
Cost
MDF wins in terms of cost hands down. MDF bathroom cabinets can be ideal if your remodeling on a budget. Wood vanities cost more but are usually stronger and available in more details designs such as hand carvings seen in antique, country, and transitional bathroom cabinets.
[READ: How to Get the Designer Look for Less – Bathroom Tips]
Formaldehyde
One thing to keep in mind is formaldehyde VOC's. Formaldehyde is a byproduct of adhesives used to attach MDF veneers to the wood. This is the faint chemical smell associated with new furniture. For those who are sensitive of smell, you're best to stick with wood bathroom vanities.
Deciding Which is Right For You
Tradewinds Imports.com is the premiere online source for quality built bathroom vanities. Here you can find bathroom vanities made from with MDF or wood. If you're unsure about your situation, you can ask for help from one of our friendly bathroom specialists by calling 1-888-900-0477 or filling out this Contact Form. Below are a few examples of MDF and Wood vanities.
[READ: European Bathroom Decor – A Style of Opulence]
–MDF Bathroom Vanities–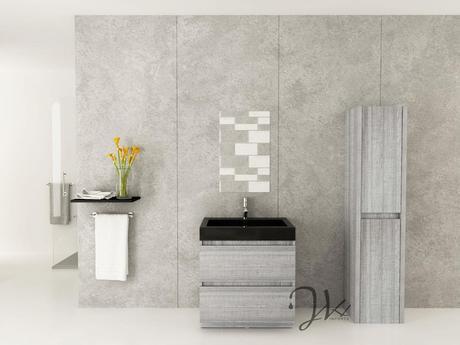 The Boden Single Bath Vanity. Made from MDF. $599.00.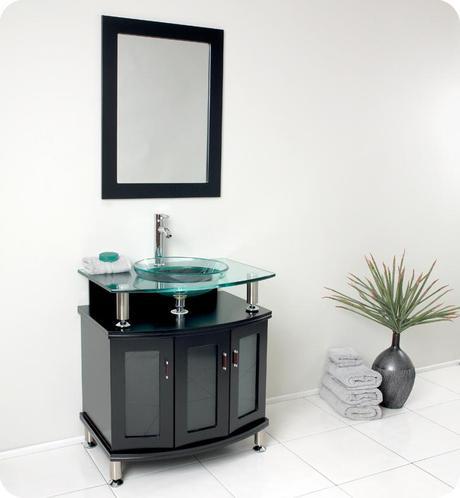 The Contento Single Bath Vanity. $849.00.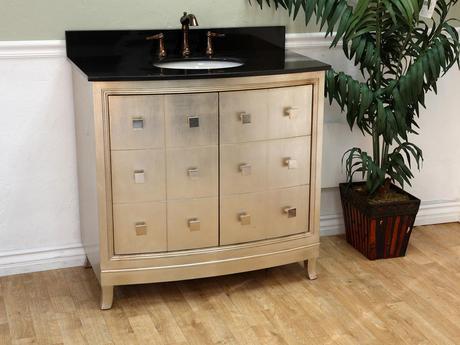 The Loire Single Bath Vanity. $1,059.00.
–Solid Wood Bathroom Vanities–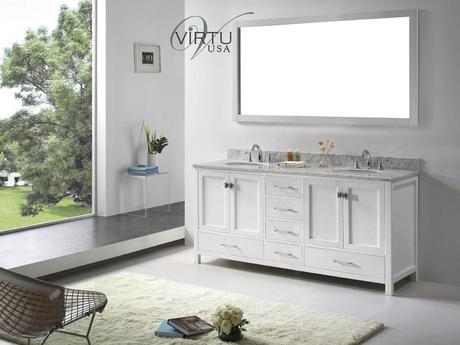 The Caroline Double Sink Vanity is made from Solid Wood. Made by Virtu USA. $1,909.00.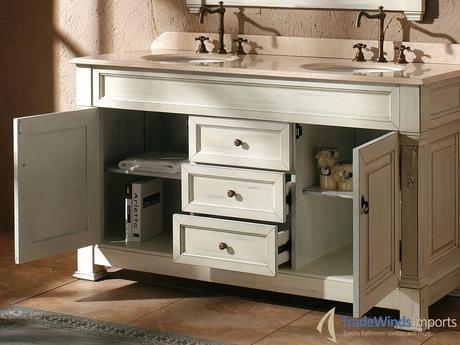 60″ Pergua Cottage Style Vanity. Made from Solid Wood. $1,665.00.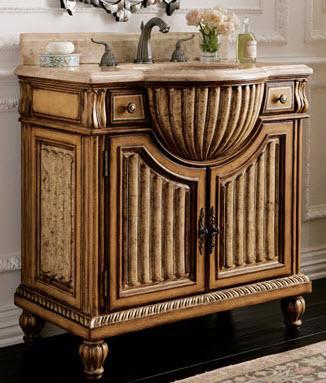 36″ Crestview Single Bath Vanity. Made from Solid Wood. $2,730.00.
–Click Here to View More Quality Bathroom Vanities–
More Bathroom Vanity Tips:
20 Small Bathroom Vanities that Are Big on Style
What is the Standard Height of a Bathroom Vanity?
Things to Know Before Purchasing a Bathroom Vanity
About the Author
Cheryl Khan is a designer and writer at Tradewinds Imports, an online specialty site dedicated to retailing fine bathroom furnishings. She has extensive knowledge about all the finer details that go into planning the perfect bath renovation project and is an expert in all things bathroom! Send her your bathroom Q's on twitter @SuperInteriors!