We recently reported that McDonald's Canada has launched an ad campaign where they allow Canadians to use Twitter or Facebook to ask the company questions about McDonald's on a web site.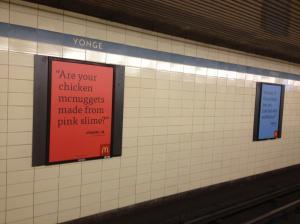 To say they blanketed the heavily traveled Yonge & Bloor subway station in Toronto with these ads would be an understatement.
In fact, McDonald's now has a "Frequently Asked Questions" page about asking questions!
It answers questions like:
"Why is McDonald's Canada taking questions about its food?"
"Why was my question rejected?"
"How does this Q&A Work?" (Spoiler alert: 1. Ask a Question; 2. Receive Notification; 3. Get Your Answer.)
3 Worse Questions People Can Ask On A "Frequently Asked Questions" Page About Asking Questions
1. "What is a question?"
2. "You just suggested I was being ironic by asking 'What Is A Question?' What does 'ironic' mean?"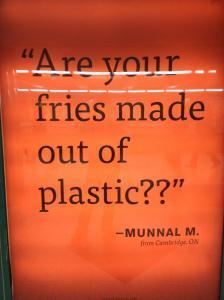 Oh dear, is it really someone's job to answer these? And yes, McDonald's that is our question!
3. "How many times do I have to ask you a question before it becomes 'frequently' asked? Is three-thousand a good rule of thumb? Please ensure that someone answers all 3,000 identical questions I submitted via Twitter."