Two Mazes albums in one year? Hey, I'll take it. Especially when the sounds presented on the band's latest, Better Ghosts, are this bold, expansive, and gloriously trippy. Earlier this year, the Manchester trio released Ores & Minerals, which found Mazes embarking on a journey into unknown psychedelic territory. Now, just a few months later, the kaleidoscopic voyage continues, but Mazes have a much firmer grasp on where they're headed.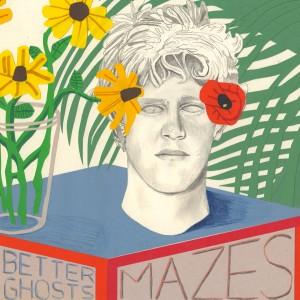 Touted as a "mini album" of sorts, Better Ghosts features eight tracks sandwiched between an introduction and conclusion, both instrumental. Once upon a time, Mazes were just another U.K. act navigating their way through a fuzzy wasteland of like-minded buzz bands; their 2011 debut, A Thousand Heys, failed to leave much of an impression. But clearly, 2013 has been a major turning point for the band, and they seemed poised to follow in the path of fellow psych-heads Thee Oh Sees in releasing a great new record every few weeks or so (give or take a couple of days).
Highlighted by fiery bursts of energy in between moments of careful calm, Better Ghosts isn't so much haunting as it is thrilling. The sleepy "Cicada" recalls late summer evenings spent tripping outdoors, accented by a delicate riff and hypnotic background buzzing. "Organ Harvest" is heavy yet undeniably sunny, like a west coast Velvet Underground exploring Brit-pop influence for the first time. There's also "Donovan," a pleasant ode to the "pretty famous" Scottish singer who "gets his recognition from the hippies and the bumblebees." Silly as it sounds, Mazes still manage to cut through the light, airy breeze with precise, powerful guitar work, concluding the track on a bolder note than initially expected.
The album is a quick and satisfying acid trip, which thankfully makes time to pause for several standout tracks along the way (single "Hayfever Wristband" is especially jangly, kitschy fun). Throughout the many twists and turns of Better Ghosts, Mazes definitely live up to their name. Donovan would be proud.

3.5 bars