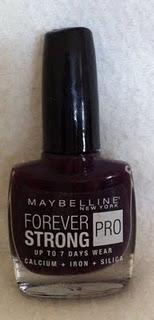 Maybelline Forever Strong Pro
On Saturday afternoon I headed to Boots on one of my never ending missions to locate the Holy Grail of beauty, the always illusive and constantly out of reach nail- varnish- that- lasts- for- more –than- two- days- without- chipping.
In the busy world in which we live who actually has time to maintain perfectly painted nails? Ok, well lots of people but I can never understand how these people have the time and inclination to constantly reapply their nail varnish when there are so many other things to be getting on with. Well if you are of a similar mindset to me fear not because I think I may have found the Holy Grail of nail varnishes courtesy of Mabelline and their Forever Strong Pro range. What's more you don't need to don your Lara Croft shorts to find it, just mosey on to your nearest Boots and pick it up for a recession friendly £4.09!!
My shade of choice is the Extreme Blackcurrant and in order to test Maybelline's boast of  'up to seven days wear' I decided to devise an extremely scientific testing method: paint my nails and see how it fares. Genius or what?!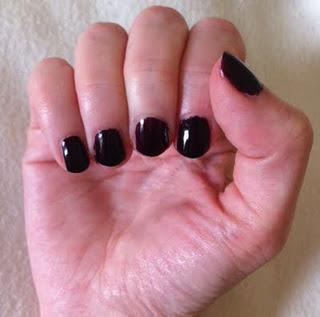 Maybelline Forever Strong Pro Extreme Blackcurrent
Day 1– Saturday night
Decided to apply the nail varnish for a cinema date with my handsome man. Maybelline Forever Strong is a good consistency, easy to apply and creates a neat finish. You need to allow a good 20 to 30 minutes application time to allow for each coat to dry. However if you were in a rush you could probably get away with one coat of the Extreme Blackcurrant. After two coats the finish is even but the color is very dark and looses its purple tone so appears black.
Day 2 – Sunday of a long bank holiday weekend
After a day that included a shower, light cleaning, washing up and an afternoon of playing rounders and football in the park it's still going strong. Good news ladies and gents…a sports proof nail varnish. Hurrah!
Day 3 – What do you do on a bank holiday? Clean the car of course!
Unbelievably after cleaning the car and some light maintenance (air in tyres, topping up oil and water) cooking and washing up there are still no chips!
Day 4 – Maybelline Forever Strong verses the bathroom
Oops first chips appear but only after a very long stand off between me, cleaning materials and mildew gathering around the shower. Still after spending a good 30 minutes scrubbing the bathroom without my marigolds there are only 3 chips to the tips of the fingernails. Not bad going in my opinion.
All in all Maybelline Forever Strong Pro is extremely long lasting and hardwearing. It didn't last the full 7 days promised but to be fair I did put it through the mill. If you work in an office and are lucky enough to get away with doing minimal housework I would think it would last a full week. So fear not, the hunt is over; this is the perfect nail varnish for the busy person on a budget!
Maybelline Forever Strong comes in 13 shades including nudes, soft pinks, reds and blues. Metallic Rose is prefect for a fresh, fun summer look.
Maybelline Forever Strong Pro ReviewProduct:
Long lasting and affordable nail varnish that comes in numerous shades.
Longevity:
Extremely long lasting, didn't quite make it to 7 days but gave a good 5 days wear with minimal chips.
Affordable:
A recession friendly £4.09.
Easy to use:
Brush provides quick and easy application. Darker shades could probably get away with one coat if you are limited for time.
Availability:
Available from Boots, Superdrug and numerous other outlets.
The Verdict: 9/10 – Haven't found a longer lasting varnish at a better price.