Sales data released for last month shows we appear to continue on a slow road to recovery. Of course we won't really know how steady it will be until we see how trends continue, but most everything I have been reading lately seems to indicate we are in slow recovery mode. Makes me think of the Soren Kirkegaard quote, "Life can only be understood backwards, but it must be lived forwards."
Closed sales continue to steadily increase.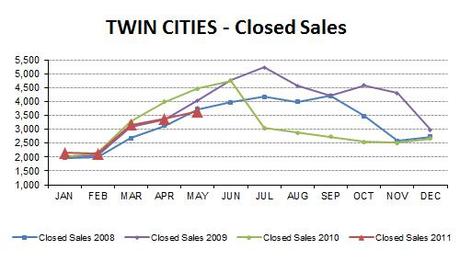 Looking at pending sales gives us a peek forwards. After the jump in March they have been creeping upward, so we are finally ahead of last year at this time. No strong increases since March, but also no strong drops.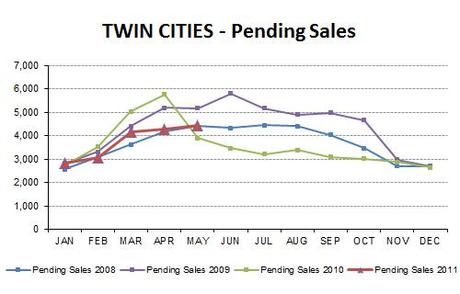 The number of new listings slumped a bit.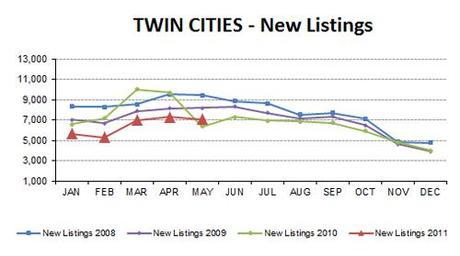 The weak number of new listings impacted the total number of homes for sale, which increased slightly... good for buyers.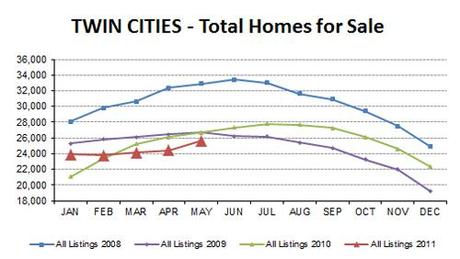 Put these facts together and you get the months supply of inventory, which is at 8.5 months overall... still a buyers market as a balanced market is at 5-6 months. The highest months supply is for condos at 11.0 months, which nevertheless shows the smallest gain over last year. Condos also had the biggest median price drop. Best supply and biggest price drop means the deals are currently best in the condo market. Houses have an 8.3 month supply and townhomes an 8.1 month supply.
Median price continued upward.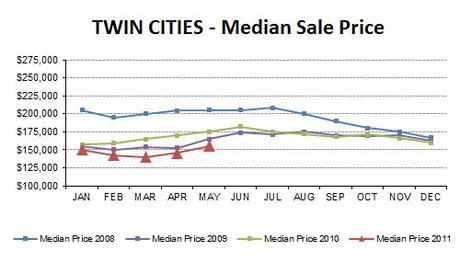 Foreclosures and short sales have had a dramatic impact on prices, so it is good to note that median price even increased in those categories. Prices continue to be stronger for traditional sales, as you can see from charts below from the Minneapolis Area Association of Realtors. Click here to see their full Quarterly Foreclosure and Short Sale report.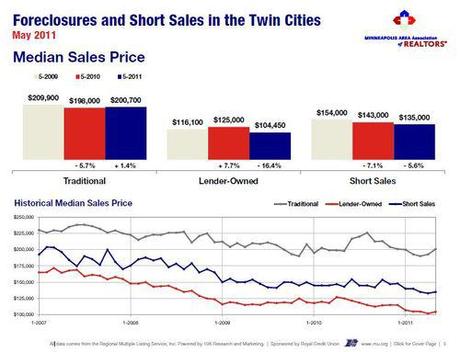 Both The Wall Street Journal and
Forbes
published articles this month on why now is a good time to buy. Forbes said...
"If you're planning to buy a house right now, the next few months may be the best time to buy… With a convergence of the factors (mentioned in the article) all of which are favorable to the prospective home buyer, there may not be a better time to buy than right now. It's a buyer's market, but like everything else in life, the bargain deals won't last."
The figures above are based on statistics for the combined 13-county Twin Cities metropolitan area released by the Minneapolis Area Association of Realtors. Click here for local reports on 200+ metro area communities. Click here for current interactive market analytics by MLS area, city or zip code.
Sharlene Hensrud, RE/MAX Results - Email - Minneapolis - St. Paul Real Estate Market Information