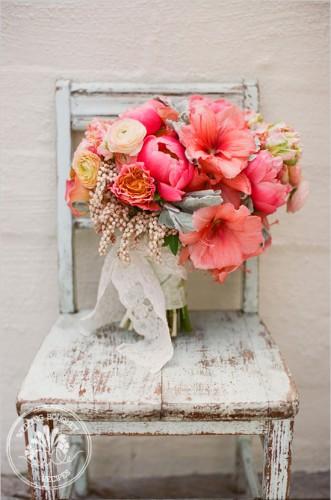 Photo Credit: WeddingChicks.Com
Here is your virtual May Day bouquet from MKB!   If you are like me, flowers make you happy, very happy.  Tis the blooming season, with tulips are on nearly every corner; it seems like every where you look there are  pretty, vibrant flowers decorating your day with happiness!
Flowers play a huge role in weddings.  My Mother and I always remember the flowers from a wedding.  From elaborate bouquets to a simply placed single, flowers are an excellent display of the couple's charm and style.  I almost can't decide which season I prefer with each offering gorgeous options of floral happiness.
Over on Wedding Chicks, they amazingly give the DIY steps on creating this bouquet and more.  I'm IN LOVE!  Flowers + DIY… yes please!    This lovely peach wedding bouquet has the following flowers: Amaryllis, Garden Roses, Calla Lily, Dutch Tulip, Dusty Miller, Pieris, Peonies, and Ranunculus, click here for how to DIY.  To see more wedding bouquet recipes click here and more wedding flower guides click here.
All of these different bouquets make me smile.  I'm looking forward to recreating some of these this weekend for a family brunch!
Enjoy the pretty flowers!  xoxo- Kellie