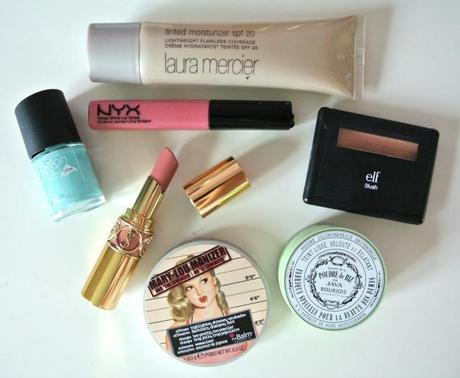 I have a post coming up soon all about the goals I'm setting myself for the summer/rest of this year, but just to give you a little sneak peek one of them is to make sure I do a monthly favourites every month. I don't know why but I've never done them on my blog before, I think it's because I never really used to enjoy reading them for some reason, but recently they've been my favorite posts to read so I'm going to do my own from now on! Yes, I know this post is nearly a week late, but I only had this brainwave on the 5th of June, oops!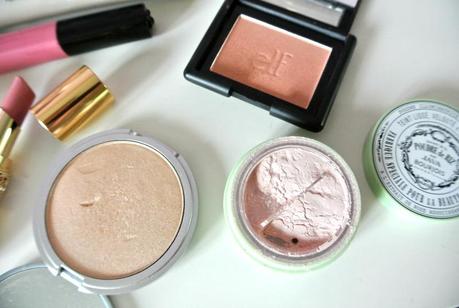 First up are a couple of face products that I've been loving lately that give a nice little glow to the face, whilst still looking pretty natural. You may be thinking, theBalm Mary Lou-Maniser, natural?! Ok I admit this isn't that natural, but with a super light hand it can give the skin the most beautiful glow without looking like you've covered yourself in gold glitter. The Bourjois Java Rice Powder is a bit of a rediscovery for me recently, my makeup just hasn't been setting right on my face (possibly the humidity, who knows?) so I reached for this in the hope it would help keep things in place. It does a little, and again this is a bit of a glow giver, and I just forgot how lovely this powder really was! I've had the ELF Candid Coral blush for a while now and I use it all the time, it's especially lovely on days where you have the bare minimum, natural makeup look going on.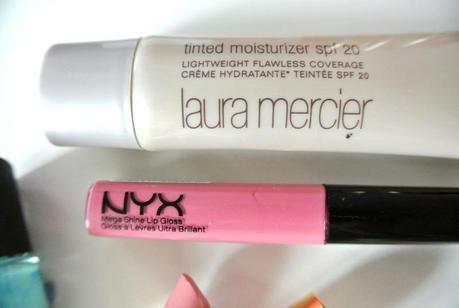 The base that has to get a mention in this month's favourites is the Laura Mercier Tinted Moisturiser in porcelain. Whilst it isn't the most long lasting product on my skin, I do love the light covereage and lightweight feel on the skin it has. I'm one of these people that by the time 5 o clock rolls around I want to rip my face off if I have foundation on, so this has been a go-to lately with all the long days spent in the library finishing my portfolio! The NYX Mega Shine Lip Gloss has to be one of the most pigmented glosses I've ever seen, and this pretty pink has been adding a nice pop of color to my face when the rest of it is pretty bare. It says it's the shade beige, don't ask. It's definitely NOT beige! It also smells like battenburg which is very yummy.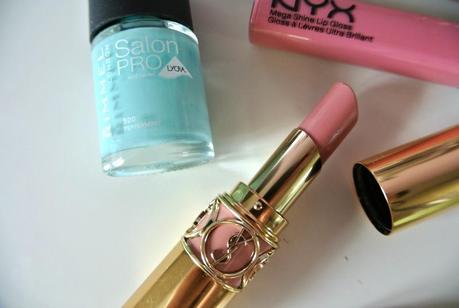 I've mentioned my love for the Rimmel Salon Pro polishes before, and this month has been no different. 500 peppermint is the most gorgeous light but bright blue and hasn't left my nails for a good few weeks. If you don't already have something like this I'd definitely recommend taking a look at it, it's just so perfect for summer! Lastly, one of my most prized makeup posessions, the YSL Rouge Volupte in the shade 01 Nude Beige. Never in my life did I think I'd ever pay this much for a lipstick, and part of me wishes I never did because I just want more! I've never found a nude that looks as good on me as this one does, and I find myself reaching for it so much… as long as my lips aren't dry as it's not as good on those days sadly.
If you can remember what they were I'd love to hear your favourites from May, or leave your May favourites post below for me to have a read of :D