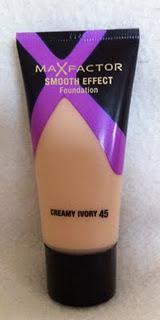 Maxfactor Smooth Effect Foundation
A good foundation is as rare and valued as a good friend. Like a friend a foundation should be reliable, make you feel good, be complimentary, calm your bad points, enhance your good points, give you a healthy, happy glow and should not be a drain on your resources. Like a good friend, a good foundation is difficult to come by!
If you are merely an acquaintance of Maxfactor now is the time to get to it a little better, as their Smooth Effect Foundation could be that reliable friend you need! What I'm most impressed with is the amount of shades available at the paler end of the scale; Creamy Ivory is perfect for my ghostly pale skin. This foundation provides good coverage that camouflages uneven skin and successful covers minor breakouts. I wouldn't recommend it for use on skin that is very problematic because it doesn't layer very well and can look too heavy when reapplied too regularly.
This foundation takes all the boxes Never Too Broke For Beauty looks for. It is long lasting, providing a good 5 hours plus of reliable wear, it blends well, its isn't too heavy but does provide enough coverage for when your skin isn't behaving and the oil free formula doesn't aggravate problematic skin. It is also a bargain at £7.99 and is available at both Boots and Superdrug. So like a good friend, Maxfactor's Smooth Effect Foundation is reliable and will leave you looking and feeling great!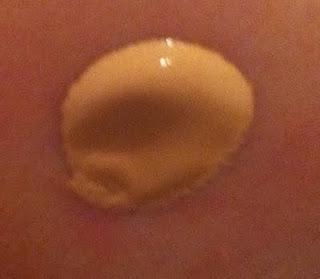 Maxfactor Smooth Effect Foundation Creamy Ivory
Maxfactor Smooth Effect Foundation ReviewProduct:
 A long lasting foundation that is affordable, easy to use and easy to wear.
Longevity:
Long lasting providing 5 hours wear. Lots of applications per bottle.
Affordable:
I purchased the foundation for £7.99,
Easy to use:
Easy to apply, blend and wear.
Availability:
Widely available from Boots and Superdrug and online.
The Verdict: 8.5/10 – A great, affordable product. My new favorite foundation.