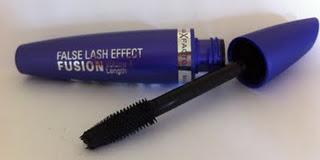 Maxfactor False Effect Fusion
Long fluttering eyelashes, the epitome of femininity. False eyelashes, the ultimate accessory of the wannabe Page 3 girl. I may be simplifying the issue, when false lashes are applied correctly they can look amazing. However, Never Too Broke For Beauty seeks to find time saving and easy to use products and false lashes do not fall into this category! Thankfully though Maxfactor's False Lash Effect Fusion does.

Left eye without mascara. Right eye using Maxfactor False Lash Effect Fusion
One of my favorite parts of creating this blog is testing out new mascaras, mainly because each makes bigger claims than the next. Maxfactor's Falsh Lash Effect Fusion is no different. It claims to create the same impact of false lashes, however where this differs from its rivals is it actually delivers. Does it create the look of false lashes? Well erm, no not exactly, but it does create high impact, super long lashes with great volume. When first applied this product doesn't have much impact but after a couple of layers the effect really is impressive, giving my lashes the illusion of length that I never thought achievable. The mascara also layers really well creating high impact lashes. I'm personally not a fan of the brush as it quite big and therefore difficult to get to the small lashes in the corner of the eye. However, this is one of the few flaws of this product.
Perhaps the second flaw is the price. This mascara is available for £10.99 so isn't the cheapest mascara around but the results are really impressive. £10.99 is much cheaper than throwaway false lashes and applying mascara is much easier and quicker than applying false lashes. If you're on a strict budget perhaps save this for a treat and wear it on those special occasions when you want your lashes to look their best.
Maxfactor False Lash Effect Fusion ReviewProduct:
Mascara that delivers high impact, super long lashes.
Longevity:
Easy to wear and no dreaded panda eyes. If worn everyday would need to replace monthly.
Affordable:
I purchased it for £10.99 so not the cheapest on the market
Easy to use:
Easy to apply, layers well without the dreaded clumps.
Availability:
Widely available from the high street and online.
The Verdict: 8/10 Mascara that delivers high impact lashes, unfortunately a little on the expensive side.