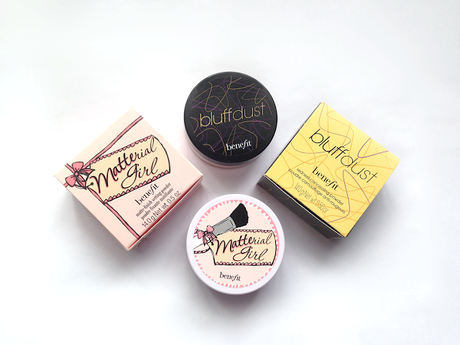 Finally getting around to reviewing these! Picked these two babies up on our first
Benefit haul
last January, and have been using these on and off throughout last year.  
Both of these are loose powders and are housed in the standard loose powder container, with puffs (not pictured) and a twist on lid.  I generally hate using loose powders just because of how messy it can get, however I was mainly drawn to these because of the cute packaging and the price.  
"This soft, yellow loose powder is spectacular for concealing redness while diminishing signs of fatigue.  They'll never know you're bluffing! Complete with cosmetic puff and screw-top lid so that bluff dust goes only where you want it to."

 
Benefit
's
bluffdust
was one of the things I added into the cart without a second thought, as I tend to get redness around cheeks and sides of nose.  The main reason why I wear base makeup is to cover over my redness, and had hoped that this would be a better and faster substitute for those rushed mornings.  I don't think this really conceals my redness completely (let alone to correct them) but I do think it helps reduce the appearance, temporarily.  Generally color correcting makeup is applied prior to using foundation (BB cream in my case), however because this is a powder, it's
probably
better to apply at the very end.  I found it rather tedious and strange at first, but I think this is what makes this product so versatile.  Considering most color correcting bases leave a "cast" over your skin, leaving you no choice but to have to apply something over it to smooth out the skintone,
bluffdust
allows you to use this powder alone, or over base makeup.  The majority of my redness are generally covered with BB cream, however on the areas where some redness still peek through, I just dust some of this over and it doubles as a setting powder :)When the
 Ben Nye
Banana Powder
hit the blogosphere, I wondered how similar
bluffdust
would be in comparison as there aren't all that many yellow powders on the market- if you've tried either or both of these products, leave a comment!
"Mattify your complexion and set your makeup with this silky, matte-finish loose powder.  Dust over face, focusing on nose, forehead and any shiny areas and POOF! You're a matterial girl!"
This is pretty much just a standard powder that claims to mattify those oily areas- with the pretty and girly packaging.  Out of the mattifying powders that I own, and the really hyped up ones (
Rimmel
Stay Matte
, I'm lookin' at chu), I'd say this is the one I reach for the most, and works the best for my face.  This is really finely milled, soft and mattifies my oily T-zone for maybe 3-5 hours, depending on the season.  It's possible to build this up, however I'd advise against it, especially those with dry skin as this can sometimes cling to dry areas and end up emphasising those areas more by the end of the day.
Matterial Girl
is advertised as a "matte-finish setting powder" on the
Benefit
website, however I don't think this does a good job of setting your makeup; my makeup still disappears the same amount as the days when I don't apply this. Another thing to note is that the powder is more on the pink undertone side, rather than the standard "invisible" shade.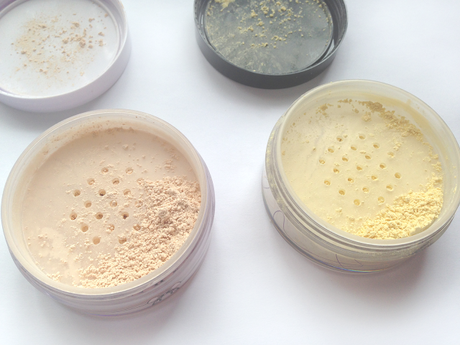 As mentioned above, both powders come with a puff, which would have probably prevented the excess amount of powder piling on the top half... You can use either a puff or a brush to apply the powders, but brushes seem to perform a better job in terms of product distribution and hygiene.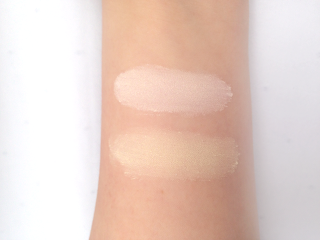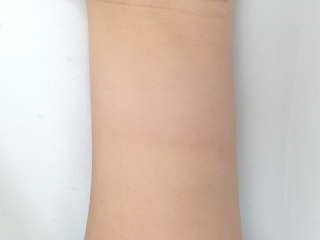 The top and bottom swatches are of the
Matterial Girl
and
bluffdust
respectively, and as you can see they are both buildable, and once blended out, they are pretty much invisible.  At the back of the box for both, it states that you can wear them alone or over makeup, although don't be expecting much coverage.  
Having picked these up for under $15 each last year, it made them very affordable for a mid-range product. The
bluffdust
retails at $22, and the
Matterial Girl
at $24, and as much as I like and use these products, I'd say to wait around for sales to pick these up.  If I could rewind to the time I ordered these, I would still purchase the
bluffdust
, but might give the
Matterial Girl
the skip- just because the former is a little more unique, more loved, and the latter is relatively common and great dupes can be found within the drugstore.  Despite that, if you do decide to pay the RRP for these, it would still be a good buy regardless as they both have 14g of product, so it'll last you almost forever :)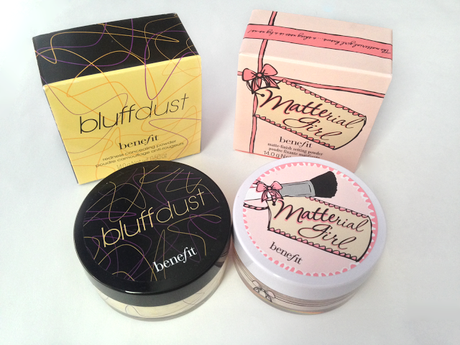 What are some great standout powders you've tried?