Alert TMZ – musicians Chris Brown and Rihanna were spotted wearing matching Rolex watches recently! As if the Twitter and Instagram pictures and song collaborations weren't enough to fuel speculation that the former couple, whose courtship broke off years ago due to abuse, has rekindled their relationship.
OK, we'll leave the speculation to the likes of TMZ, we're a jewelry blog, after all. So let's do our due diligence and take a look at these snazzy Rolex watches. To start, they're Rolexes, so it's not like they're cheap. Any watch where there's a counterfeit market certainly isn't going to be cheap and these him and her's versions are certainly no exception. Take a look at the photo below: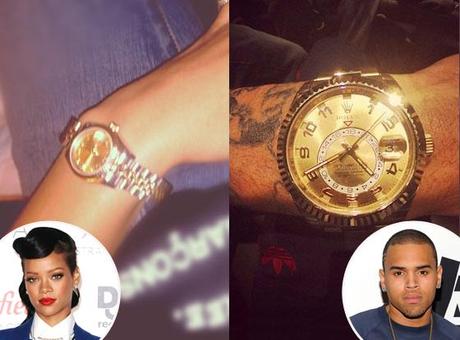 As you probably already guessed, that's Rihanna's on the left (a two tone champagen dial ladies Rolex DateJust) and Brown's on the right. Chris's is actually the new Rolex Sky-Dweller with a 24-hour display, second time zone, and annual calendar with Saros system and month display, in 18kt yellow gold.) If you looked closely, you can tell that they're synched with one another. OK, back to our TMZ-like speculation: It's too coincidental to think that they were purchased separately, right? I mean, the stars are aligning – Rihanna tweets picture of Brown in bed, they allegedly spent Thanksgiving together in Europe and now this – matching Rolexes? Perhaps is the "I'm a wealthy musician" version of the teenage promise ring. A little bling, no? Don't tell Chris Brown's rival Drake if that's the case.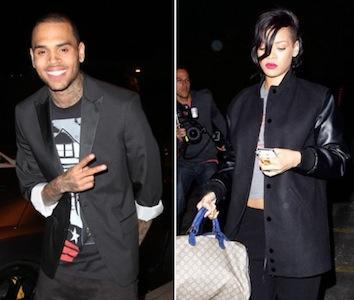 Whatever the case is, nothing says "I love you" like a brand new Rolex. And whatever is going on between Rihanna and Chris Brown, let's all just stop for a moment and appreciate the shiny new Rolex watches.
Let the speculation continue…
Scott C for Raymond Lee Jewelers, South Florida's premiere source for buying and selling luxury watches and designer jewelry.