If you've ever worked in retail or any environment with an emphasis on customer service, you can probably tell where I'm going with this post. Masks are what we wear when we serve the public, a face we put on to look professional.
What I find fascinating is that the masks tend to usually be the same. Friendly demeanour, just wants to get the job done. It's almost as if it comes as part of the uniform.
I feel the presence of this metaphorical mask at work myself. When I see people I know come through, slipping into friendly dialog doesn't come instantly — it feels like I have to put a conscious effort to snap out of the persona I've placed on myself to be sociable. It's strange.
So anyway, enough rambling — here's a poem reflecting on the idea of masks.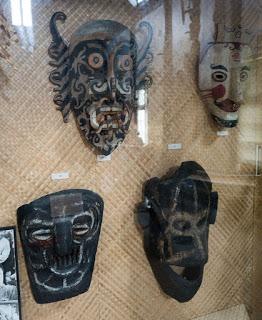 Masks
Into shops we shuffle,
our wallets on a binge
for comfort foods stocked by
skin stuffed with porcelain
Found amidst the checkouts,
where time loses its pace
a figure stands, eyelashes
all ribboned up with lace
Words are always spoken
but the mask is hot with day
or night, it matters not
the sentence stays the same
Thanks for reading, Dean.
Email This
BlogThis!
Share to Twitter
Share to Facebook
Reactions: