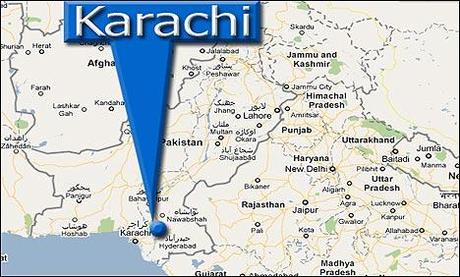 Despite of presence of police and rangers, the bloodshed in Karachi continues and at least eight people including an Imam of a mosque killed in the different incidents of violence in metropolis on Saturday.
A dozen people including two children were injured in the firing incidents.
Qari Mohammad Amin, the Imam of Bilal Masjid, situated near Korangi crossing was gunned down by two armed man outside the worship place. The people present at the spot of incident caught one culprit while his mate fled the scene.
Tension prevailed in the area following the incident as infuriated people took to the streets and pelted stones on vehicles, burnt tires and blocked roads. Police and rangers rushed to the spot, controlled the situation and brought the culprit, identified as Nadeem, with them.
The spokesman of Ahle Sunnat Wal Jamaat (ASWJ) claimed that the killed Imam was a senior responsible of ASWJ Korangi Sector.
 A 55-year-old man, identified as Shabbir Hussain, was shot down in a battery shop in Defence.
An unidentified person was killed by unknown armed persons in the Mangho Pir area.
Police recovered a dead body from a House in Orangi Town No.10 who was mysteriously murdered.
Four armed persons, riding the two motorcycles, brought two refugees with them, shot them in heads on the backside of a factory in Korangi industrial area and fled the scene. The ages of refugees were between 25 to 30 and they have not been identified yet.
32-year-old Mushtaq Mirani was shot dead by unknown motorcyclists in the Bughdadi area.
Dr. Painda Khan, the General Secretary of Pakhtoon Students Federation was shot dead by four armed motorcyclists.