Hello Ladies,
I hope you are all doing very good!! 
I wanted to share with you my new mani using the new MASH Image Plates 26-50 set. I have been so in love with this wonderful set of image plates. These images are so impressive to me. Each image delivers crisp and clean images when stamped. These plates work with any of my four stampers that I always keep on hand for those image plates that are sometimes a little difficult. MASH plates are so creative and the designs are varied so it can offer lots of possibilities. MASH Image Plates are selling for $12.99 for a set with shipping charges depending on your area. 
Today I used MASH-48, a cute dot image that I really love.
 Gradient base was made using FingerPaints Silkscreen Green, Inkblot Blue, Iconic Orange, Orly Beach Crusier and Glowstick. Image was stamped using my go to stamping polish, a mixture of Konad black and CG Where's the Soiree?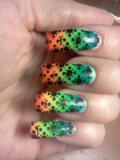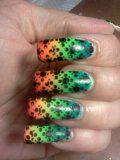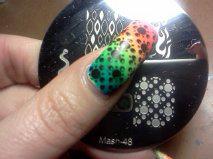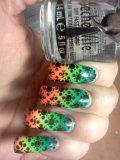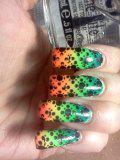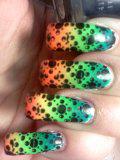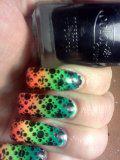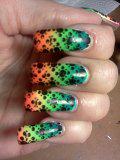 Thank you for taking the time to drop by!
Take Care of You!
Nicky
*Product was provided to me so I can give an honest and sincere review.