Looking back on to my childhood with this peanut pakoda, will just wither off the masala and have the peanuts(kadalai) only. And to my amazement my daughter also does the same. 
But now, I would love to have these peanut pakodas as the whole, that too with ginger tea or masala tea, it sounds to be perfect for me....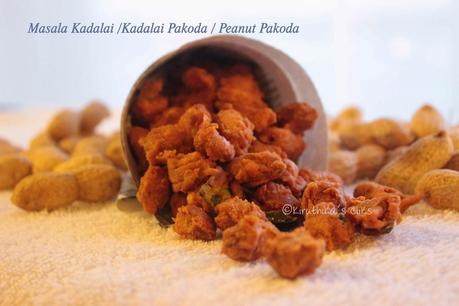 I would just be gazing at these pakodas, because each and every peanut will be coated with the masala. Till I gave a try, this recipe was under difficult category. Ended up with a green signal at my first try itself. So I am recommending this simple, easy snack for my sister who is going to get married in few months...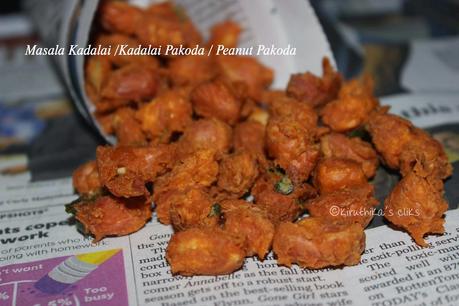 Prep Time 10 mins
Cooking Time

 10 mins
Ingredients
1 cup
 Peanuts 
1/2 cup

 Besan / Gram Flour/ Kadalai Maavu
2-3 tsp
 Chilly Powder
1 tbsp

 Rice Flour
2 pinch
Asafoetida
1 spring
 Curry leaves
As per tasteSalt
As needed

 Water
As needed
Oil ( For Frying)

Procedure1) In a wide bowl put all the above ingredients and mix by adding water little by little.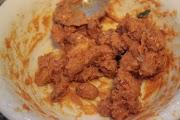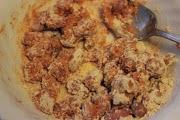 2) Mix well that each and every peanut is coated with the gram flour mixture.
3) Deep fry them in oil. Care should be taken that the peanuts are separated. If they are clinging together, try separating them when in oil(using the ladle).
4)Drain the oil in paper towel. Store it in airtight container after they are cooled down.
  Note:
You can add crushed garlic and fennel seeds if you wish.

You can also fry the curry leaves separately at the last and then add it.

You should be a miser in adding the water, as it should not turn too watery.
                    Easy yet impressive snack is ready for your coffee/tea.