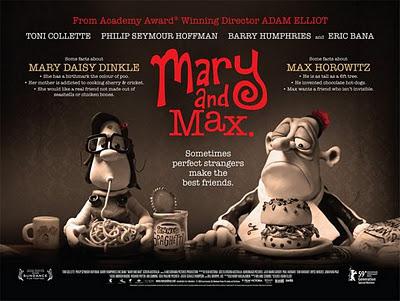 The word charming doesn't do justice to this film. Imagine that much talked about 5-7 minute montage in UP. (Right, sorry for reminding you. Just wipe your tears and come back to finish reading this when you are done.) Mary & Max as a movie on the whole brings about the same emotions those 7 minutes did. I'm not comparing, just getting you ready, so that incase like me if you don't have a running nose, you can think of a way to hide those tears from your wife/husband.
Based on a true story Mary & Max is a claymation animation that looks at a child's innocence and a grownup's isolation and combines that in a wonderful web of emotions that are linked with friendship. Mary is an 8 year old girl in Australia, with an alcoholic mother, who one day at the spur of the moment writes to Max, a middle aged man suffering from anxiety attacks, in New York. A relationship that in any era would be frowned upon, slowly takes on a beautiful path as they both write to each other over the years discussing their inhibitions and fears and in return comforting each other in times of need. The film is a love letter to friendship. It's a reminder that friendship sees no age, colour, gender, or location.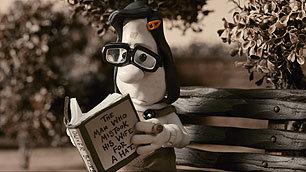 While talking about the film on Twitter, someone mentioned that the reason for UP's montage to work was that it's an animation and the same emotions could not have been pulled from the audience had it been real actors in it. I agree with that. Mary and Max works because it is claymation. But, having said that, the story is so engrossing that after a little while you forget to focus on the animation aspect of the film. Furthermore, the film is not one for the kids. They might enjoy the claymation from time to time, but the dialog and just the overall intricacies of the relationship are very much adult in nature.
As a film, Mary & Max is brilliantly voiced by Toni Collette (Mary) and Phillip Seymore Hoffman (Max) along with Eric Bana as Damien (Mary's husband). The soothing voice of Barry Humphries as the narrator is the final key that eventually, at some point of time, opens up the floodgates of emotions in the audience.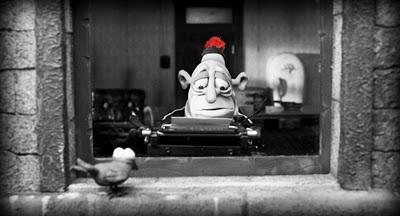 I can't promote this movie enough. It's one that should be talked about more. One, that should be seen by everyone. It simply is one of the best films I have ever seen.
No point guessing, it gets a 5/5 Star Rating from me.  
I would also like to thank

Orange

for their brilliant initiative wherein they let customers download a different movie every Thursday from iTunes. Had it not been for them, I probably would never have seen this film. So Thank You Very Much!