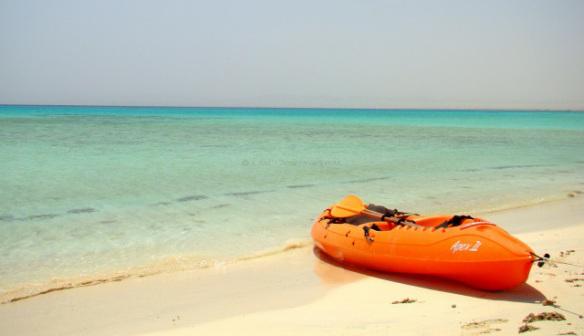 I'm officially ruined. It's going to be difficult to beat the Marsa Alam experience anytime soon. Although it's the furthest beach I've ever been to – 8 hours from Cairo by car- and is just a few hours from the Sudanese border, it's every bit worth it: there are kilometres of semi-untouched shores, of mangrove beaches unobstructed by construction and crowds, and the bays are full of turquoise blue waters and beautiful reefs. It takes a 600km drive to witness what Egypt's Red Sea coast once looked like, what beaches look like in their original state before they were eaten up by massive construction projects and overambitious tourist resorts.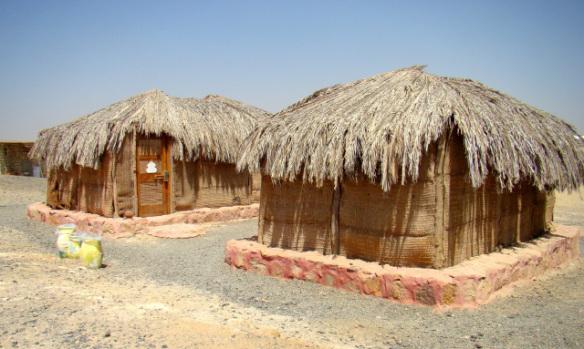 We stayed at Deep South, a small, simple camp perched on a desert hill overlooking Tondoba Bay. The camp's huts are basic, African-style rooms with concrete floors, surprisingly comfortable beds and walls carrying the poetry of Salah Jaheen. Electricity is provided in the hut until midnight, as is clean bedding, but no table or chair or mirror. But who cares about that anyway?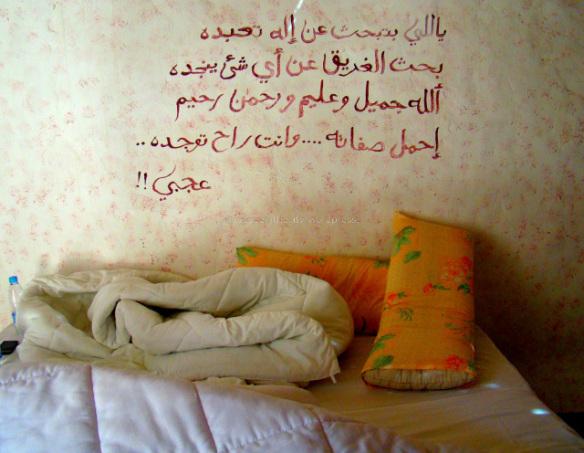 The separate men and women's  toilets are kept clean, but you need to bring your own towels and toiletries. The huts come with bedding and electricity outlets. Electricity is turned off around 11PM and on again at 7AM. Because we were visiting at a low season during a petrol crisis (the electricity and water are powered by fuel generators) we had to ration the electricity consumption, but we honestly didn't care.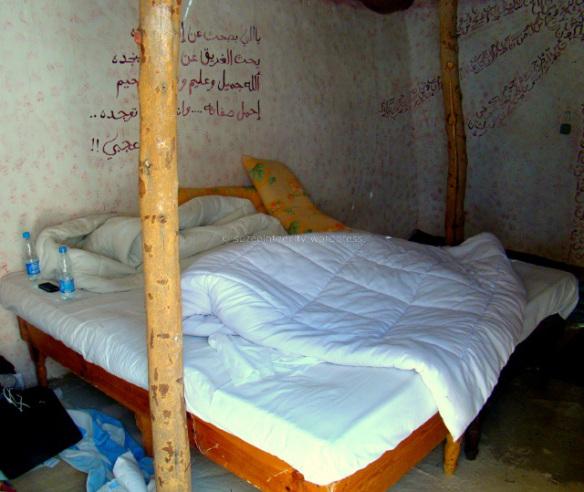 You don't come to Deep South for standard definitions of luxury; you come for the clean, dry desert air, the incredible diving spots nearby and the magnificent open skies that you relax under. Food is simple but fresh and tasty and is delivered from a nearby grilled meats restaurant. Drinks are an additional expense and well-supplied in the bar area's fridge.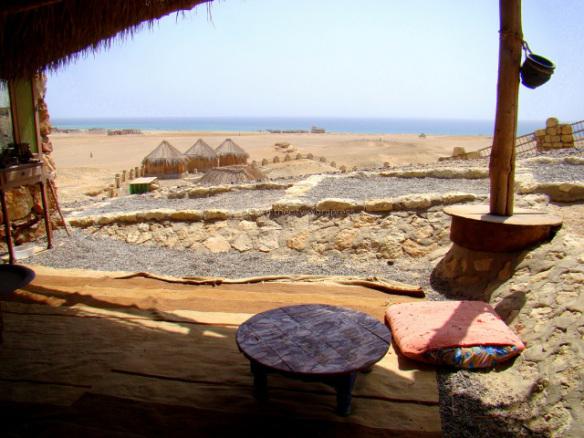 Our days in Marsa Alam started with an early breakfast at 8AM, followed by a trip to the dive site of our choice, where we'd spend the whole day in the pleasantly chilled waters or resting between dives. On lazier days, we'd lounge around in the shade of the bar area, watching the dive boats drift across the sea in the distance and debate where we should go diving next. Ah, the sweet luxury.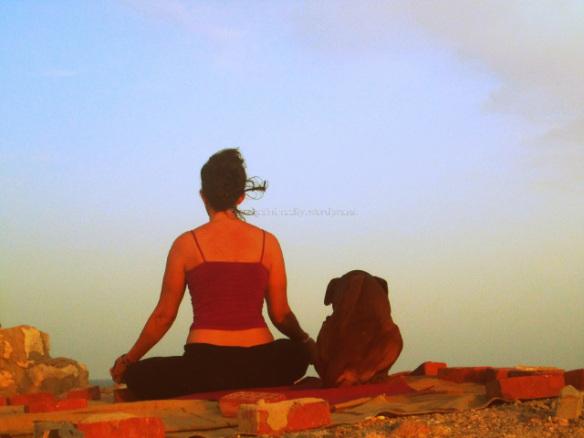 The top hill is a perfect spot for meditation, star-gazing and bonfires. The camp's staff would make us their specially brewed coffee, where the beans are slow roasted on the fire then mixed up with ginger and sugar into a shot glass of sweet espresso deliciousness.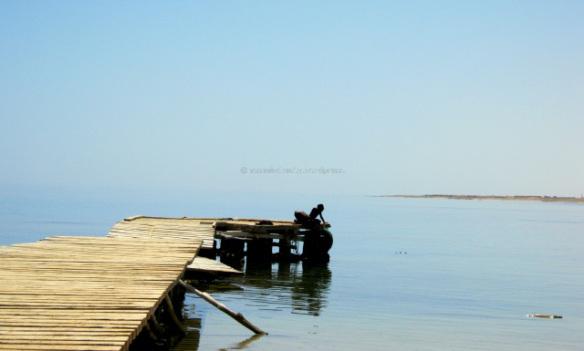 Deep South's dive centre is a five minute walk down from the hill. It's located on Tondoba bay, which has a good house reef to the North and a sea grass bed to the South where, if you're lucky, you might spot turtles or -if you're very, very lucky- a dugong. I was one lucky diver; on my first dive to the sea grass, we spotted a guitarfish, which is from the ray family but looked suspiciously like a shark and led me to hide casually behind our guide. Then we spotted a gigantic male turtle (at least twice my width and about my height) with a small fish attached to his back, we swam after it and our guide imitated his moves; it was like watching a strange but exciting water ballet. THEN we saw two giant stingrays just a few metres away, one of which had a torn stinger. Their graceful movement underwater is incredible to witness first-hand. Did I mention this was all in one dive?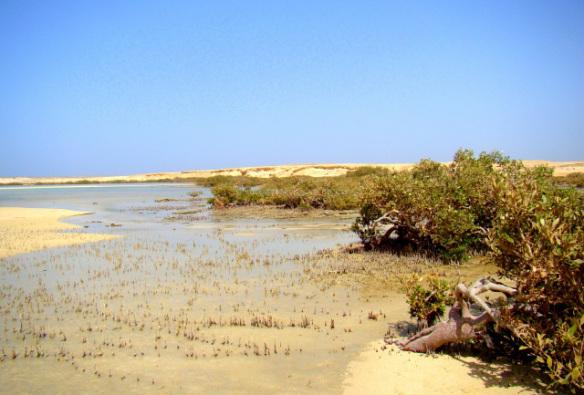 On our second day, we drove out to Golaan in the South, which is part of the Wadi Gemal National Park. There, we had grilled tuna for lunch and parked ourselves under the famous mangrove tree for the day, after playing with starfish and the beautiful sea shells lined next to the tree.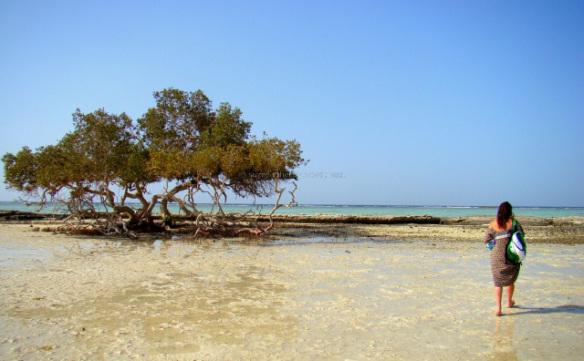 At sunset, the locals made us more of that incredible ginger coffee. It was like a spicy Caffeine dessert, one of our most memorable experiences on the trip.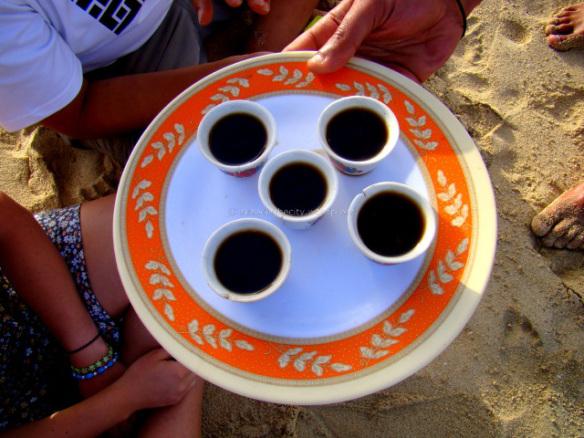 Other amazing dive sites were Abu Dabbab, where I spotted bluespotted eels, and my very very lucky friends got to see the dugong (which is very rare- some divers spend months in Marsa Alam before they spot it), and the Dolphin House/Samadai reef, where we took a 40-minute boat trip out to the sea to a HEPCA-protected spot. There, the area is divided into three areas, one is completely off-limits to divers and that's where the dolphins rest, and the other two are open to snorklers then divers. Even though I never got to see the dolphins, I was so taken aback by the beauty of the marine life there that it didn't matter; massive Napoleonfish, short-nosed unicorn fish, bicolour parrotfish, barracuda and all sorts of colourful, fluid forms were fascinating to watch, even just by snorkeling around the reefs there.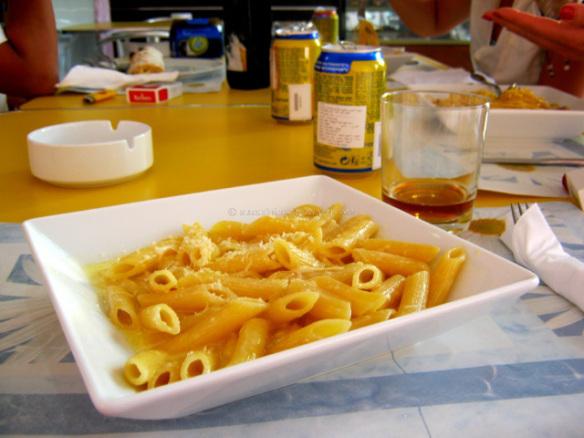 Of course, all this healthy activity worked up a mean appetite; we were eating four to five massive meals a day, and the Italian bistro called Dolce & Salate in Hurghada town was our favourite destination. Seriously, you don't get authentic Italian food like this in Cairo. Mara made fluffy pizza dough, homemade tiramisu ice cream, pastas and ice coffee that has us humming and cooing with gluttonous pleasure.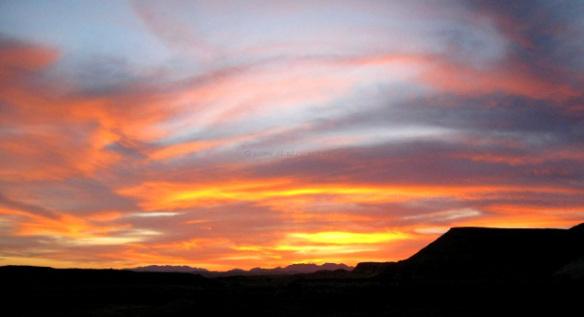 Marsa Alam seems to be that place that everyone comes back swooning about, and rightfully so. We were surrounded by friendly, easy-going people who went out of their way to make us comfortable, the diving was incredible, the food was delicious and the weather was pleasantly hot. Seriously, the only thing to complain about was that we couldn't live there forever and had to go back to Cairo – but only to make money so that we can come back again ASAP.
Flights to Marsa Alam cost around 1200LE for a return ticket. Buses are available but take an incredible 15 hours, so you're better off stopping in Hurghada or Gouna for the night before continuing your trip. accommodation at Deep South starts at 100LE per night excluding drinks and taxes, and dives start at 140LE for the equipment per day. An open water dive course costs around 2000LE. If you're spending five days or more in Marsa Alam, budget for 1000LE not including dives and boat trips. For more information, check out Deep South.