For this August 2019 Eat the world Recipe challenge , the country we are cooking are Puerto Rico, a south American country. I had heard the name of the country but didn't know about its cuisine.
I came through many recipes and decided to make this coconut candy bar. Its simple with less ingredients. I used freshly grated coconut . You can use dessicated coconut for this recipe .
Marrallo is a coconut and brown sugar candy cooked on a medium flame and cut into cubes.
Mampostial is the another name for Marrallo. This is a coconut candy of Puerto Rica. The people of Puerto Rico also call it as Malrayo. Its consistency is soft and chewy coconut candy with sugarcane molasses.
In Southern India , we make a similar coconut candy known as Thengai Burfi with white sugar and adding cardamom powder for flavour.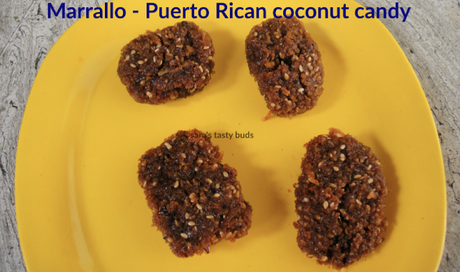 Requirements :
2 cup shredded coconut
2 cup brown sugar
2 tbs white sesame seeds
1 tbs Unsalted Butter (Optional)
Dry roast the sesame seeds for a minute on medium flame.
Method : In a pan , add the ingredients and cook over medium heat and stir continuously.
Take care and stir continuously to avoid burning.
When the mixture thickens , pour the mixture to a greased tin and flatten with a wooden spatula.
Let it cool and cut into squares.
Marrallo is ready to serve.
Adding freshly grated coconut makes this delicious.
Adding sesame is optional too.
Some add cinnamon powder or Vanilla. I didn't add any of these. The brown sugar itself gives a distinct flavor. Note :