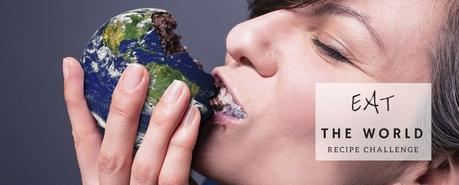 For this month's Eat the world challenge we are cooking from Bulgaria.....
Bulgaria is the country in the South Eastern Europe. Bulgarian Cuisine is a representative of the Mediterranean Cuisine of SouthEast Europe. It shares the recipe with other Balkan cuisine (Includes Albanian , Croatian , Greek , Kosovan , Macedonian , Montenegrin , Ottoman , Romanian , Serbian , Slovenian and Turkish Cuisine ). They use variety of vegetables , herbs and fruit because of the diversity of its land. They use yogurt more compared to the rest of Europe.
Bulgarian cuisine shares a number of dishes with the Middle Eastern cuisine as well as a limited number with the Indian Cuisine. The Culinary exchange with the East started as early as the 7th century , when the traders brought herbs and spices to First Bulgarian Empire from India and Persia .
Bulgarian Gevrek is known as Simiti in Turkish cuisine. Simiti name is quiet popular than geverk and is known as Turkish bagel worldwide.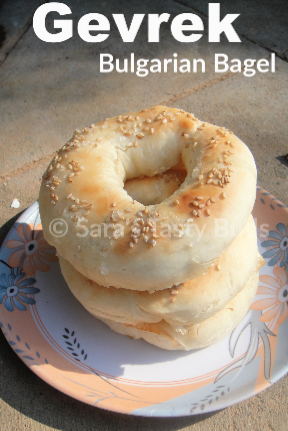 Gevrek are made by shaping the dough into a circle with the hole in the center , then boiled in water with honey and rolled in the sesame seeds before baking it. So it is also called as sesame rings / Sesame Bagel.
This circular bread is typically encrusted with sesame seeds or less commonly with poppy seeds , flax seeds or sunflower seeds. In Bulgaria , there is a savory version of Gevrek.
Requirements :
4 cup All purpose flour
2 cup lukewarm water
1 tbs Instant dry yeast
Half tsp salt
2 tbs sugar
Vegetable oil
For Boiling
2cup water
3 tbs honey
White sesame seeds for topping
Method :
In a bowl , add the flour , sugar , salt , yeast and mix well.
Add in the lukewarm water little by little to the bowl and mix with a spatula till the flour is mixed well.
Now transfer the dough to the countertop and knead well for 15 minutes till the dough becomes smooth and soft.
Place the dough in the oiled bowl and let it double for 2 hour.
Once the dough is doubled , divide into equal parts.
Roll each part into log , shape into circle and seal the ends.
Add the honey to the boiling water and place the shaped gevrek in the water , boil for a minute .
Take the boiled gevrek out and roll in the sesame seeds and place in the baking tray.
Bake in the preheated oven @ 200*C for 20 minutes or till the Gevrek becomes golden brown.
Gevrek is ready to be served .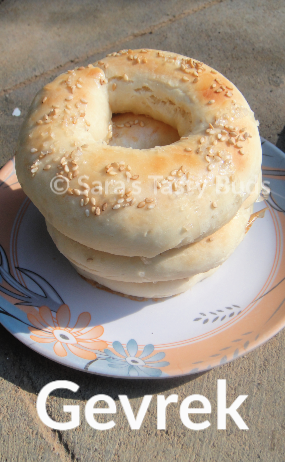 Check out all the wonderful Bulgarian dishes prepared by fellow Eat the World members and share with #eattheworld. Click here to find out how to join and have fun exploring a country a month in the kitchen with us!
" target="_blank">Mekitsa - Bulgarian Fried Doughnuts