Every woman knows that the most important piece of jewelry you'll ever own is your engagement ring. The sentimental value alone eclipses the actual worth of the jewelry. The choice of ring is paramount – not only does it symbolize the love of your life, but it's a piece of jewelry that is worn every day. Your engagement ring should not only stand the test of time, but make you smile every time you glance at your finger.
Most men get slightly nervous when talking about buying a ring. That's often written off as fear of commitment, but there's more to it than that – shopping for anyone else, first of all, is not every man's favorite pastime. Then traditional costs of three months' salary get tossed around and that's enough to make anyone with fiscal sense a little leery. Plus, no one ever wants to start their life together picking the wrong ring. They want their future wife to be happy with the choice, just like their future wife hopes that they will find the perfect ring.
The Marquis Cut Engagement Ring
When choosing the engagement ring, it's the center stone that you should decide on first. Once you know the shape and size of the stone, the rest of the setting will naturally come together.
A marquis cut is a fantastic choice. First of all, it offers way more bang for your buck. Because of the shape, the stone gives the illusion of being larger than it is which, in turn, means that the cost will be lower. Another advantage to the marquis cut is that (if set so that the points are length-wise down the finger, rather than sideways) it has a slimming effect on the fingers. The stone can, of course, be set to your specifications.
Marquis cut diamonds are a great center stone if you want your engagement ring to have a little variation of color. Perhaps you'd like a diamond with a hint of yellow or one with rubies added to the setting, such as this: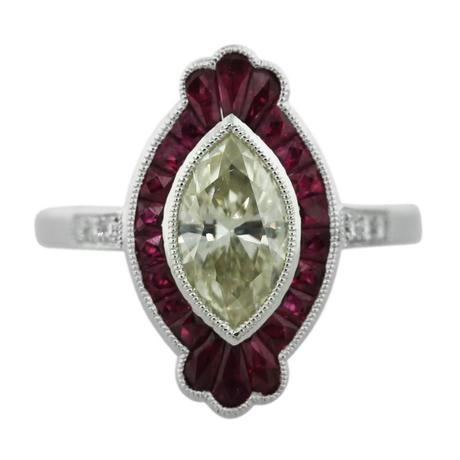 Light Yellow Marquise Cut Diamond Platinum Ruby Engagement Ring
Sapphires are also fantastic. The contrast of the stones really makes the diamond sparkle: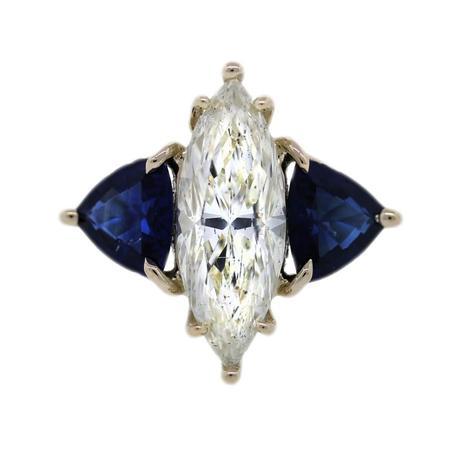 EGL 3.06 ct Marquise Diamond and Sapphire Engagement Ring
The best way to choose the right ring is to go with the bride's style. Fads will come and go – for instance, twenty years ago, yellow gold was very popular. But it's since been eclipsed by silver, white gold and platinum. You can't do anything about the trends that will change in the next five, ten, or twenty years. What you can do is to find a setting and style that embodies the bride's personal taste. Some women appreciate a more classic taste. They want something elegant and timeless, such as: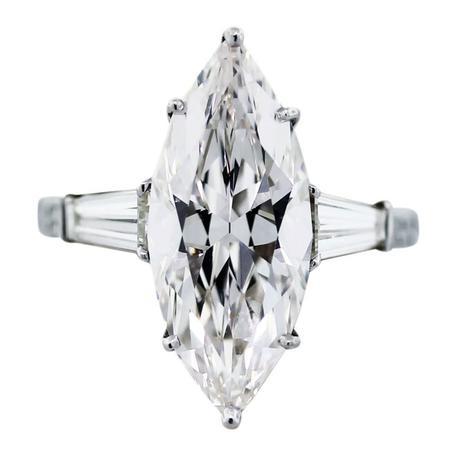 4 Carat Marquise Cut Diamond Platinum Engagement Ring
Many women today love the ornate feel of vintage jewelry – something with a pop of color that looks as though it might have been the height of fashion in the early 20th century: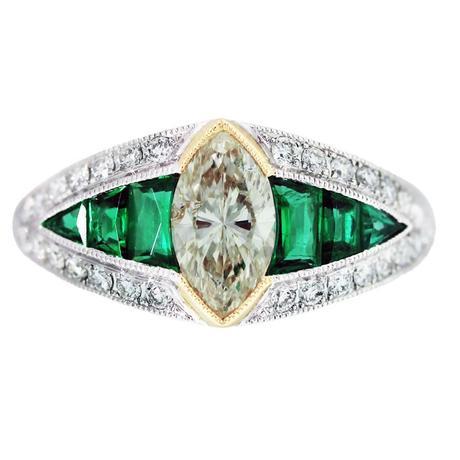 Diamond Emerald Platinum Yellow Gold Vintage Style Engagement Ring
Then, of course, there are women who prefer something simple and elegant.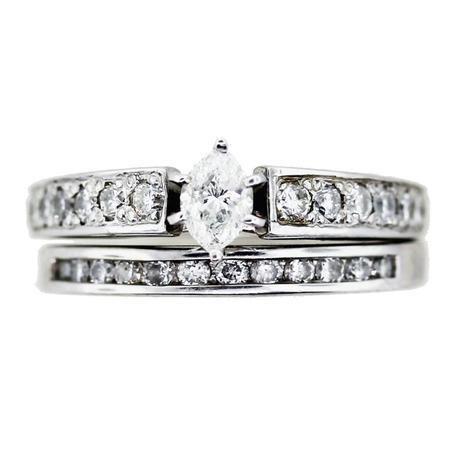 1/2 Carat Diamond Engagement Ring and Wedding Band Set Marquise Cut
Whatever your decision, make sure it's something that will stand the test of time.