Recipe Number One Hundred & Twelve:  Page 189.
Just the very words marmalade traybake sound comforting – well to me they do. I can just picture myself enjoying a large slice whilst curled up in front of a roaring open fire. Unfortunately I will have to make do with huddling next to the radiator!! I always enjoy making traybakes as, more often than not, they are quick and easy and large enough to feed a fair few; I feel I am getting value for money!!
The morning had started well. I took my little boy to the park in the glorious autumn sunshine and felt all the better for it. Soon after arriving back home, things took a quick nose dive. Isaac fell and bashed his chin; the poor thing cut his lip with a tooth. Thankfully it didn't take long to stop the bleeding. He was soon back on his feet as if nothing had happened, whilst his mother was a trembling mess!! Once Isaac was safely tucked up in bed for his nap, I went to the kitchen to make the marmalade traybake. It was obvious my mind was elsewhere when I tried to line the tin with cling film!!!!
Luckily this was a very simple all in one recipe, so not a lot of thinking was required. I weighed out equal amounts of butter and sugar before adding the dried fruit. The quantity of sultanas and currants was the same as the butter and sugar, so this was obviously going to be very fruity. This sounded good to me. I was delighted to add some cherries, but sadly nowhere near as many as I would have liked. However, at least I wasn't told to wash and dry them, so that saved a lot of time. Not only did I require self raising flour but also a generous amount of baking powder. I wondered if a lot of fruit in a cake makes it more difficult for it to rise. Was that why I needed extra raising agent?! I had a panic when I couldn't find the eggs. I wondered if I had forgotten to buy them. I gave myself a stern telling off before realising that the egg box was sitting neatly beside my mixing bowl, oh dear!!! After adding the beaten eggs, I measured several tablespoons of milk into the bowl. I was then ready to move on to the surely very crucial ingredient - marmalade. Well, I only needed two tablespoons. It seemed to get lost in the bowl; it certainly didn't look very much. Mary does say to be careful when measuring the marmalade as too much will make the cake sink in the middle, so I resisted adding more! Now I could beat everything together. It took a while to combine as it was a very thick mixture. It was fairly tricky smoothing it into the tin as it was so stiff. I popped the tin into the oven on a low heat. As it required at least forty minutes in the oven, I took the opportunity to sit and eat a bag of sweeties! I certainly felt better for the burst of sugar in my veins!
Feeling a little over sugared I headed back to the oven to take my traybake out and see if it was ready. It was a nice golden brown on top and looked well risen. I had to leave it in the tin for ten minutes before turning it out onto a wire rack. I got sidetracked and it ended up in the tin for almost half an hour. As I attempted to turn it out, the cake broke in the middle and cracks branched out. There was nothing I could do to stop them! I put the pieces on the wire rack and tried my best to push them back together! When the cake was completely cold, I cut it into jaggedy pieces; I couldn't help but feel sorry for it. I was very disappointed with my pictures. Even though it was only half past four the light had gone, so annoying! The cake was moist and soft and broke apart very easily! It had a really nice subtle orange flavor with a buttery taste. I still think there could have been more cherries but, as I like sultanas, I'll let it go! This was a lovely light fruit cake which was a real joy to bake and to eat.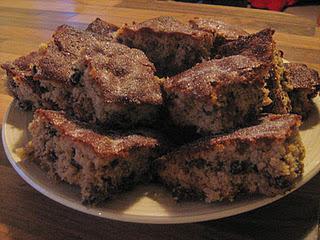 A terrible photo - will have to start baking earlier!!
Isaac has an addiction to sultanas so this went down particularly well. Even though the middle part of his day was a bit rubbish, it ended on a happy note!