85.2 dB* Marloe in the 8th is a place I visited about a month ago and thought it so good that I should take Colette to when she came back; and a good thing too.  We were welcomed like long-lost cousins (the host is a boyhood friend of the masterchef I was to eat here with last time and we accepted their warm welcome.)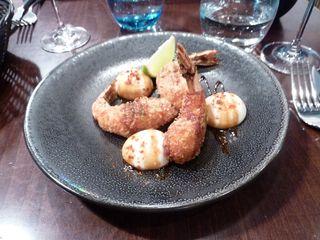 My first was a dish of panko-coated gambas with a Kikkoman "caramel" and a wonderfully full-tasting cold cauliflower puree.  Ommm, ommm.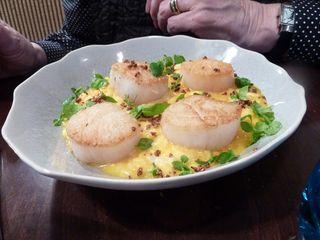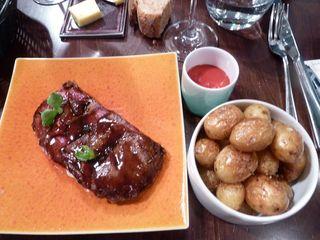 Colette then had four terrific scallops, lightly sauteed so they never reached the rubbery stage, on a bed of pumpkin and shaved parmesan mixed into a orzo-type monsterous rice base while I had a perfectly sourced and cooked piece of Black Angus beef with potatoes,dusted with salt from Maldon (UK) and two sauces; a BBQ and Basque pepper one; delicious.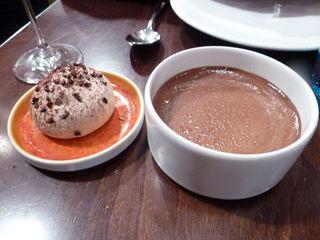 Together we shared a chocolate creme and chocolate macaroon.
With a bottle of Languedoc (no pix, they decant everything here), terrific bread and butter and two coffees, the bill was 126.80 E.
Disclosure: Because of his fond childhood memories of our mutual friend, our host comp'd us to two glasses of wine after dinner.
*the dB ratings are decibel max's recorded on my handy-dandy acoustic sound level meter, an idea Francois Simon pursued for a while.