If you're a wedding business owner, this is for you.
Wedding Industry blog posts on English Wedding have always met with a great response from the small businesses out there. Advice and quick tips for marketing a wedding business are an integral part of this blog.
As of this week, they're all available in print: my very own guide to Marketing Your Wedding Business will help you to boost your wedding business's performance: improve your web presence, perfect your marketing and watch your business grow!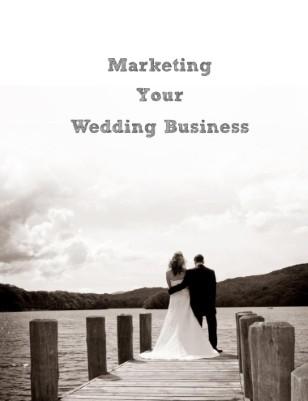 Marketing Your Wedding Business - The Guide
A big part of the English Wedding Blog is my perspective on weddings from inside the industry. My own wedding business, this blog and my Marketing background give me a pretty unique insight into marketing and promoting a wedding business.
Marketing Your Wedding Business: The Guide
This 52 page guide to marketing your wedding business talks you through promotion and business strategies specifically focused on the wedding industry.
Here's a quick preview of what's inside:
Marketing for weddings has its own very special qualities: an emotional occasion, a competitive playing field with thousands of small businesses competing for sales
Your wedding business potential: understand your dreams for your business, and learn how to make them a reality. The successful home-based craft business you always wanted, or a nationwide chain in five years' time?
Advertising your wedding business: three golden rules for what NOT to do! Save time and money with these three great tips
Wedding business marketing strategy: see how Jenny's Jewellery uses the marketing concept of Product, Price, Promotion, Place to write a positive mission statement
Write your own wedding marketing strategy in 30 minutes: A quiet room, a pen and paper, and our questionnaire will inspire your own strategy for success!
How to blog your wedding business: it's not like writing a 'weddings blog' – this is how to keep your focus and spend 8 hours a year writing a blog which will boost your business
What to write about on your wedding business blog: the four key topics to cover, and how to write about them
Wedding market segments and targets: save your business money and time by using market segments – Marketing Your Wedding Business makes it easy
Marketing communications for wedding businesses: rethink what you're saying online – how are you portraying your business?
Know your wedding market: do you know your customers as well as you think you do? Our quiz questions will help you find out
Wedding business market research: forget surveys, if you're strapped for time we'll show you how to gather research the big guys are doing for you!
AIDA for wedding business advertising: the four stages to selling with really effective ads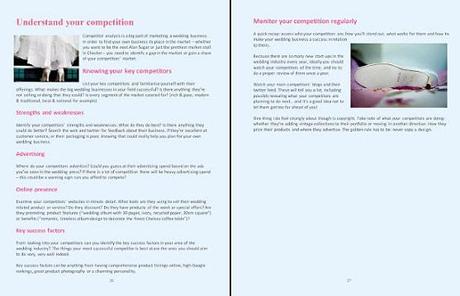 Page preview: Marketing Your Wedding Business: The Guide
Understand your competition: how to analyse your competitors and improve on what they do
The secret to successful wedding advertising: a new way of thinking about how you advertise your wedding business, and how you'll know it works!
Testing your wedding advertising: ever just placed an ad and left it? You won't make the same mistake again!
It's all about the Experience: how to be special and make a name for yourself in the wedding industry
Advertising online: how to get your wedding website noticed and admired!
Marketing online: using social platforms and new media to boost your successful wedding business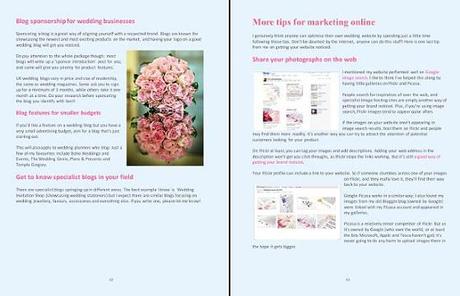 Inside: Marketing Your Wedding Business: The Guide
More tips for marketing your wedding business online: been there, done that? OK, now make it better!
Marketing Your Wedding Business – The Guide is available on www.magcloud.com for $25 in print; a little less as a digital issue (which also comes free with your printed Guide). Follow the advice inside to give your wedding business the boost it needs!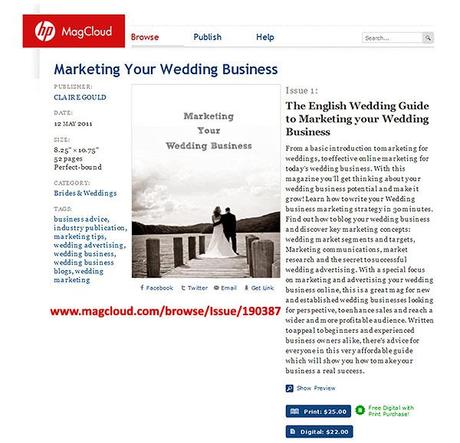 Marketing Your Wedding Business - The Guide on Magcloud