Twin Cities market stats for March 2013 showed median sales prices increasing 17.4% as inventory decreased 31.0% compared to last year... it is a tale of rising prices driven by low inventory. This makes a great time to be a seller, with upward pressure on prices expected to continue. You can see in the chart below how March inventory has dropped every year in the last five years.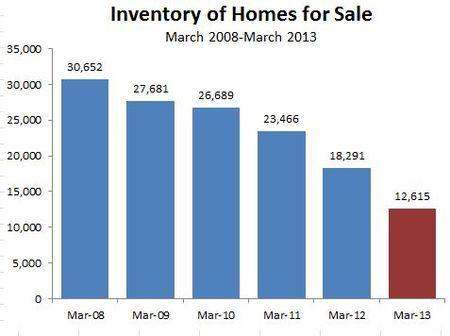 You can see just how low inventory levels have been hanging below past years in the chart below. Nationwide, inventory levels are down to levels not seen since about 2000.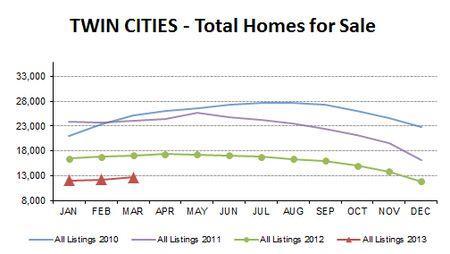 Bill McBride of the finance and ecnomics blog Calculated Risk thinks housing inventory won't bottom out until next year when more sellers finally get back into the market as a result of rising prices driven by the low inventory. It will be interesting to see if our inventory can make it above last year's levels as the year progresses. As I said in January... The biggest factor shaping the housing market in 2013 is inventory.
The inventory shortage is contributing to the rise in prices, with median sales price in March the highest it has been since the crash at the end of 2008.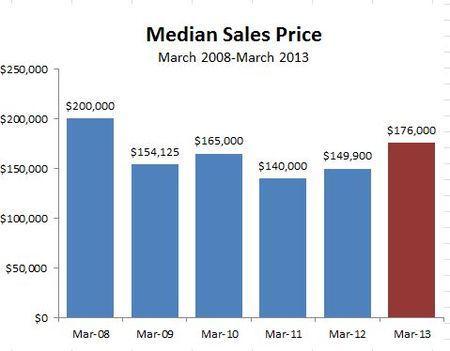 You can see how dramatic the jump was in median sales price last month in the chart below. This is the time of year when prices typically rise, but notice how much higher we are starting the year this year... it will be interesting to see how the year progresses.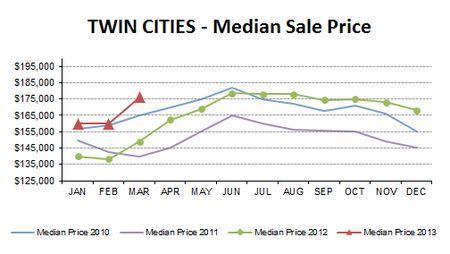 Pending sales are hovering above last year while new listings hover below last year, which is fueling price gains and keeping inventory levels low. Condos have shown the largest price gain, and the price range that tends to sell the quickest is $190,000-$250,000.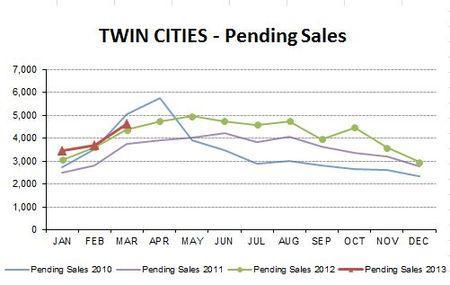 A full housing recovery won't occur until inventory returns to more normal levels... and people don't have to hesitate about selling their home for fear they won't be able to find another one to buy.
The figures above are based on statistics for the combined 13-county Twin Cities metropolitan area released by the Minneapolis Area Association of Realtors.
Never forget that all real estate is local and what is happening in your neighborhood may be very different from the overall metro area.
Click here for local reports on 350+ metro area communities
Click here for current interactive market analytics by area, city, county, neighborhood or zip code
Sharlene Hensrud, RE/MAX Results - Email - Twin Cities Real Estate Market
RELATED POSTS