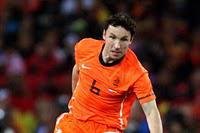 Mark van Bommel has been called many things. While some call him, "the dirtiest player alive", others prefer to simply call him "scum". While normally I don't approve of these rude and often over-exaggerated names, in van Bommel's case I might make an exception. Last season the Dutchman amassed an impressive 111 fouls and 16 yellow cards in all competitions, yet never receiving a red card.
While van Bommel is an intelligent central midfielder, with a relatively wide range of passing, his overall style is what turns many people away from him. He tends to plow through his opponents: ramming through them, stepping on them, and using sly tactics to avoid more bookings than he should receive. If you were to categorize Mark van Bommel, you would probably have to put him into a category of his own: a provoking bone-cruncher.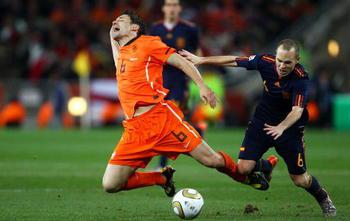 Acting is part of van Bommel's vast repertoire of skills
Regarding the deal which has been signed, Mark van Bommel was released from his contract at Bayern Munich after specially requesting termination of his contract. The club was happy to tear up the player's contract, thanking him for the four years and a half of service, and letting him join AC Milan on a free transfer. Mark van Bommel's deal with AC Milan is six months long, a smart move by the rossoneri. The former Bayern player will be useful in case injuries continue to pile up, but he won't be around for long to drag down the club.
Mark van Bommel joins another newly-signed Dutch player, Emanuelson who arrived from Ajax for about 1.5 million Euros. While Emanuelson will have the shirt number 28, Mark van Bommel will wear the prestigious shirt number four, previously worn by Demetrio Albertini. 
While it's a little early to judge, we might get a chance very soon when AC Milan play against Sampdoria in the Coppa Italia. AC Milan coach Massimiliano Allegri says that it is likely that the new signings will play, giving them a chance to debut at the San Siro.
It's a strange transfer, probably one which will work out well for AC Milan in the end. What do you think? Share your comments below!