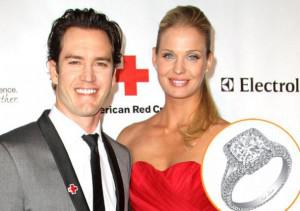 Franklin and Bash star, Mark-Paul Gosselaar is off the market as he exchanged vows with his fiancée Catriona McGinn, an advertising executive. They tied the knot at a winery in Santa Ynez, California on Saturday, after a year-long engagement.
With the exchange of vows, they exchanged their personalized symbol of love and dedication they share – the hand-crafted wedding bands. Designed by celebrity jewelry designer, Neil Lane, the hand crafted platinum band is truly one-of-a-kind wedding band.
Mark's wedding band is a broad platinum band with a glistening matte texture giving a cool, contemporary feel to the wedding band The bride's engagement ring is sparkling counterpart with an approximately 3-ct diamond eternity band set with dozens of small brilliant round diamonds on all three sides to produce the dazzling look.
The wedding band is a perfect complement to the 5-ct cushion-cut diamond engagement rings (designed by Neil Lane) gifted by Gosselaar, 38, when he proposed to McGinn in July of last year.
The bride, Catriona had enhanced her adoring wedding look by flaunting Lane's 10-ct diamond earrings, which had a 1920s vintage touch to it!
In an interview with the People magazine, he said, "I'm too type-A to let it happen around me." He further added, "We're trying to make it as traditional as possible. It's going to be fun!"
Gosselaar, more popularly known as Zack Morris from "Saved by the Bell" and his new wife will be heading to Italy for their honeymoon.
"Trust me, we are going to eat our a–es off!" he told the magazine. "We're really excited about that element."
This has marked as the second marriage for Gosselaar, who divorced from his first wife Lisa Ann Russell in May 2011. He has two children, Michael, 8, and Ava, 5, with Russell. Their marriage had lasted for 14 years.
Also Read : 'The Bachelorette' Found Her Man with a Dazzling Engagement Ring